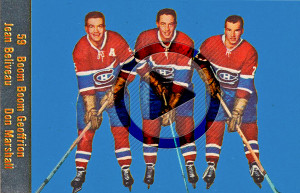 Looking to bring hockey cards to the world in a variety of ways, this year we turned to video. We've created several videos that are basically slide shows with a number of different themes. To begin with, we did a video featuring Parkhurst cards from 1951-52 to 1963-64. We then moved on to feature specific teams.
Starting with the Original 6 teams, each video lasts anywhere between three and five minutes and includes over 100 cards in each. In the background there is what we believe is some pretty nice music.
There will be more to come. The one thing that we're having a bit of a tough time with is the simple aesthetics of combining the standard portrait format of hockey cards with those rare occasions when they were produced with longer width than height. This leaves out sets like 1963-64 Topps, 1966-67 Topps and 1968-69 O-Pee-Chee, except for maybe special cards like awards and all-stars.
Each video is located at YouTube. We'd really love if you'd give the videos a 'thumb's up' after viewing!
Montreal Canadiens Vintage Hockey Cards
Toronto Maple Leafs Vintage Hockey Cards
Chicago Blackhawks Vintage Hockey Cards
Detroit Red Wings Vintage Hockey Cards
New York Rangers Vintage Hockey Cards
Boston Bruins Vintage Hockey Cards
1951-52 Parkhurst Complete Set
1952-53 Parkhurst Complete Set
1955-56 Parkhurst Complete Set
1958-59 Parkhurst Complete Set
1959-60 Parkhurst Complete Set
1960-61 Parkhurst Complete Set
1961-62 Parkhurst Complete Set
1962-63 Parkhurst Complete Set
1969-70 O-Pee-Chee Complete Set
1971-72 O-Pee-Chee Complete Set