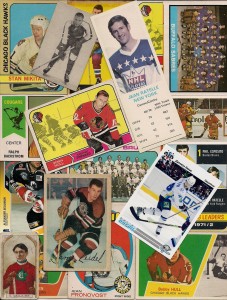 Evolution. That's a great word to describe Vintage Hockey Cards Report since its inception in April, 2011. At first, the site was born to be a companion to my eBay sales. It was to serve the sole purpose of driving traffic to my card auctions in order to get higher winning bids and faster product turnover.
In the beginning, there was even a few months of 'real' price reports that featured a list of winning bids from eBay. It was a great idea, I suppose, but tedious work.
Well, the life of an eBay seller wasn't for me. But, the site remained. And, evolved. I continued to write about the hockey players on the fronts of the vintage cardboard. I dug around for rarities in both cards and players. I revisited the wealth of knowledge on the backs of those cards that had been my bible since I was a kid.
Adversity caused more evolution. At one point, the traffic to the site dropped to levels where I considered abandoning the project. Other sites that I created were doing much, much better and warranted more and more of my attention. However, I carried on. I added the virtual collection. The VC was the saving grace. Traffic began to increase and I had renewed interest in the site.
It continues to evolve today. As the virtual collection gets filled out, I've started adding videos of the complete sets with other goodies coming in the near future. The articles about your favourite and your not so well known hockey players keep coming. They are more and more detailed with each one published.
So, what is the ultimate purpose of Vintage Hockey Cards Report? What started as a simple aid to sell cards now holds a higher goal. Each day, I build this site towards becoming the ultimate vintage hockey online reference. I'm grateful to you for stopping by along the way and I hope you'll continue to keep the site in mind in the future!
The original about page published on April 26, 2011 – before the first article was even written:
There are numerous web sites out there in the World Wide Web that act as stores where vintage hockey cards can be bought. The purpose of Vintage Hockey Cards Report is to provide some information on these cards being bought and sold, as well as, a little bit about the player on the cardboard.

What constitutes a vintage hockey card? There's no steadfast rule. Our cut-off line is the ProSet era that began in 1990-91. That year marked the saturation of the hockey card market, and the sports card market in general.

Of course, we're buyers and sellers on eBay. Check out what we've got for auction. Stay tuned as their will be discounts coming for Vintage Hockey Cards Report subscribers in the near future.

If you would like to contact us, we can be reached by e-mail at tom@vintagehockeycardsreport.com .
"We are a participant in the Amazon Services LLC Associates Program, an affiliate advertising program designed to provide a means for us to earn fees by linking to Amazon.com and affiliated sites."