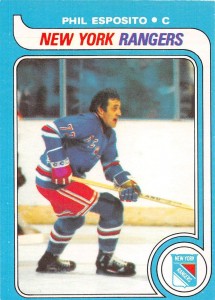 The 1979-80 O-Pee-Chee set consists of 396 hockey cards. Of course, the highlight is number 18, the rookie card of Wayne Gretzky of the Edmonton Oilers. This set marks the final cards for Hockey Hall of Fame legends Ken Dryden, Gordie Howe and Bobby Hull.
This is the first post-World Hockey Association set and includes for the first time players from the Edmonton Oilers, Hartford Whalers, Quebec Nordiques and Winnipeg Jets as NHLers.
Other than Gretzky, the 1979-80 O-Pee-Chee set is not overly heavy in valuable rookie cards. However, the RC's of Barry Melrose, Bobby Smith, Charlie Simmer and John Tonelli are of some significance.
Four cards of moderate value are the checklists of the four new teams that came from the WHA. Instead of a team photo on the front, these four checklists simply show the team logo.
1979-80 O-Pee-Chee Checklist
| | |
| --- | --- |
| Number | Player |
| 1 | NHL Goal Leaders |
| 2 | NHL Assist Leaders |
| 3 | NHL Scoring Leaders |
| 4 | NHL Penalty Minute Leaders |
| 5 | NHL Power Play Goal Leaders |
| 6 | NHL Goals Against Average Leaders |
| 7 | NHL Game Winning Goal Leaders |
| 8 | NHL Shutout Leaders |
| 9 | Greg Malone |
| 10 | Rick Middleton |
| 11 | Greg Smith |
| 12 | Rene Robert |
| 13 | Doug Risebrough |
| 14 | Bob Kelly |
| 15 | Walt Tkaczuk |
| 16 | John Marks |
| 17 | Willie Huber RC |
| 18 | Wayne Gretzky RC |
| 19 | Ron Sedlbauer |
| 20 | Glenn "Chico" Resch [Second Team All-Star] |
| 21 | Blair Chapman |
| 22 | Ron Zanussi |
| 23 | Brad Park |
| 24 | Yvon Lambert |
| 25 | Andre Savard |
| 26 | Jim Watson |
| 27 | Harold Phillipoff RC |
| 28 | Dan Bouchard |
| 29 | Bob Sirois |
| 30 | Ulf Nilsson |
| 31 | Mike Murphy |
| 32 | Stefan Persson |
| 33 | Garry Unger |
| 34 | Rejean Houle |
| 35 | Barry Beck |
| 36 | Tim Young |
| 37 | Rick Dudley |
| 38 | Wayne Stephenson |
| 39 | Peter McNab |
| 40 | Borje Salming [Second Team All-Star] |
| 41 | Tom Lysiak |
| 42 | Don Maloney RC |
| 43 | Mike Rogers |
| 44 | Dave Lewis |
| 45 | Peter Lee |
| 46 | Marty Howe |
| 47 | Serge Bernier |
| 48 | Paul Woods |
| 49 | Bob Sauve |
| 50 | Larry Robinson [First Team All-Star] |
| 51 | Tom Gorence RC |
| 52 | Gary Sargent |
| 53 | Thomas Gradin RC |
| 54 | Dean Talafous |
| 55 | Bob Murray |
| 56 | Bob Bourne |
| 57 | Larry Patey |
| 58 | Ross Lonsberry |
| 59 | Rick Smith |
| 60 | Guy Chouinard |
| 61 | Danny Gare |
| 62 | Jim Bedard |
| 63 | Dale McCourt |
| 64 | Steve Payne RC |
| 65 | Pat Hughes RC |
| 66 | Mike McEwen |
| 67 | Reg Kerr RC |
| 68 | Walt McKechnie |
| 69 | Michel Plasse |
| 70 | Denis Potvin [First Team All-Star] |
| 71 | Dave Dryden |
| 72 | Gary McAdam |
| 73 | Andre St. Laurent |
| 74 | Jerry Korab |
| 75 | Rick MacLeish |
| 76 | Dennis Kearns |
| 77 | Jean Pronovost |
| 78 | Ron Greschner |
| 79 | Wayne Cashman |
| 80 | Tony Esposito |
| 81 | Emblem [Jets Team Checklist] |
| 82 | Emblem [Oilers Team Checklist] |
| 83 | Canadiens over Rangers (4   [Stanley Cup] |
| 84 | Brian Sutter |
| 85 | Gerry Cheevers |
| 86 | Pat Hickey |
| 87 | Mike Kaszycki |
| 88 | Grant Mulvey |
| 89 | Derek Smith |
| 90 | Steve Shutt |
| 91 | Robert Picard |
| 92 | Dan Labraaten |
| 93 | Glen Sharpley |
| 94 | Denis Herron |
| 95 | Reggie Leach |
| 96 | John Van Boxmeer |
| 97 | Dave "Tiger" Williams |
| 98 | Robert "Butch" Goring |
| 99 | Don Marcotte |
| 100 | Bryan Trottier [First Team All-Star] |
| 101 | Serge Savard [Second Team All-Star] |
| 102 | Cliff Koroll |
| 103 | Gary Smith |
| 104 | Al MacAdam |
| 105 | Don Edwards |
| 106 | Errol Thompson |
| 107 | Andre Lacroix |
| 108 | Marc Tardif |
| 109 | Rick Kehoe |
| 110 | John Davidson |
| 111 | Behn Wilson RC |
| 112 | Doug Jarvis |
| 113 | Tom Rowe RC |
| 114 | Mike Milbury |
| 115 | Billy Harris |
| 116 | Greg Fox RC |
| 117 | Curt Fraser RC |
| 118 | Jean-Paul Parise |
| 119 | Ric Seiling |
| 120 | Darryl Sittler |
| 121 | Rick Lapointe |
| 122 | Jim Rutherford |
| 123 | Mario Tremblay |
| 124 | Randy Carlyle |
| 125 | Bobby Clarke |
| 126 | Wayne Thomas |
| 127 | Ivan Boldirev |
| 128 | Ted Bulley |
| 129 | Dick Redmond |
| 130 | Clark Gillies [First Team All-Star] |
| 131 | Checklist |
| 132 | Vaclav Nedomansky |
| 133 | Richard Mulhern |
| 134 | Dave Schultz |
| 135 | Guy Lapointe |
| 136 | Gilles Meloche |
| 137 | Randy Pierce RC |
| 138 | Cam Connor |
| 139 | George Ferguson |
| 140 | Bill Barber [Second Team All-Star] |
| 141 | Terry Ruskowski |
| 142 | Wayne Babych RC |
| 143 | Phil Russell |
| 144 | Bobby Schmautz |
| 145 | Carol Vadnais |
| 146 | John Tonelli RC |
| 147 | Peter Marsh RC |
| 148 | Thommie Bergman |
| 149 | Rick Martin |
| 150 | Ken Dryden [First Team All-Star] |
| 151 | Kris Manery |
| 152 | Guy Charron |
| 153 | Lanny McDonald |
| 154 | Ron Stackhouse |
| 155 | Stan Mikita |
| 156 | Paul Holmgren |
| 157 | Perry Miller |
| 158 | Gary Croteau |
| 159 | Dave Maloney |
| 160 | Marcel Dionne [Second Team All-Star] |
| 161 | Mike Bossy [Record Breaker (Most Goal] |
| 162 | Don Maloney RC [Record Breaker] |
| 163 | Hartford Whalers [Team   Checklist] |
| 164 | Brad Park [Record Breaker] |
| 165 | Bryan Trottier [Record Breaker (Most Poin] |
| 166 | Al Hill RC |
| 167 | Gary Bromley |
| 168 | Don Murdoch |
| 169 | Wayne Merrick |
| 170 | Bob Gainey |
| 171 | Jim Schoenfeld |
| 172 | Gregg Sheppard |
| 173 | Dan Bolduc RC |
| 174 | Blake Dunlop |
| 175 | Gordie Howe |
| 176 | Richard Brodeur |
| 177 | Tom Younghans |
| 178 | Andre Dupont |
| 179 | Ed Johnstone RC |
| 180 | Gilbert Perreault |
| 181 | Bob Lorimer RC |
| 182 | John Wensink |
| 183 | Lee Fogolin |
| 184 | Greg Carroll RC |
| 185 | Bobby Hull |
| 186 | Harold Snepsts |
| 187 | Pete Mahovlich |
| 188 | Eric Vail |
| 189 | Phil Myre |
| 190 | Wilf Paiement |
| 191 | Charlie Simmer RC |
| 192 | Per-Olov Brasar |
| 193 | Lorne Henning |
| 194 | Don Luce |
| 195 | Steve Vickers |
| 196 | Bob Miller RC |
| 197 | Mike Palmateer |
| 198 | Nick Libett |
| 199 | Pat Ribble RC |
| 200 | Guy Lafleur [First Team All-Star] |
| 201 | Mel Bridgman |
| 202 | Morris Lukowich RC |
| 203 | Don Lever |
| 204 | Tom Bladon |
| 205 | Garry Howatt |
| 206 | Bobby Smith RC |
| 207 | Craig Ramsay |
| 208 | Ron Duguay |
| 209 | Gilles Gilbert |
| 210 | Bob MacMillan |
| 211 | Pierre Mondou |
| 212 | J.P. Bordeleau |
| 213 | Reed Larson |
| 214 | Dennis Ververgaert |
| 215 | Bernie Federko |
| 216 | Mark Howe |
| 217 | Bob Nystrom |
| 218 | Orest Kindrachuk |
| 219 | Mike Fidler |
| 220 | Phil Esposito |
| 221 | Bill Hajt |
| 222 | Mark Napier |
| 223 | Dennis Maruk |
| 224 | Dennis Polonich |
| 225 | Jean Ratelle |
| 226 | Bob Dailey |
| 227 | Alain Daigle |
| 228 | Ian Turnbull |
| 229 | Jack Valiquette |
| 230 | Mike Bossy [Second Team All-Star] |
| 231 | Brad Maxwell |
| 232 | Dave Taylor |
| 233 | Pierre Larouche |
| 234 | Rod Schutt RC |
| 235 | Rogatien Vachon |
| 236 | Ryan Walter RC |
| 237 | Checklist |
| 238 | Terry O'Reilly |
| 239 | Real Cloutier |
| 240 | Anders Hedberg |
| 241 | Ken Linseman RC |
| 242 | Billy Smith |
| 243 | Rick Chartraw |
| 244 | Atlanta Flames [Checklist] |
| 245 | Boston Bruins [Checklist] |
| 246 | Buffalo Sabres [Checklist] |
| 247 | Blackhawks Team Checklist |
| 248 | Rockies Team Checklist |
| 249 | Red Wings Team Checklist |
| 250 | Kings Team Checklist |
| 251 | North Stars Team Checklis |
| 252 | Canadiens Team Checklist |
| 253 | Islanders Team Checklist |
| 254 | Rangers Team Checklist |
| 255 | Flyers Team Checklist |
| 256 | Penguins Team Checklist |
| 257 | Blues Team Checklist |
| 258 | Maple Leafs Team Checklis |
| 259 | Canucks Team Checklist |
| 260 | Capitals Team Checklist |
| 261 | Nordiques Team Checklist |
| 262 | Jean Hamel |
| 263 | Stan Jonathan |
| 264 | Russ Anderson |
| 265 | Gordie Roberts RC |
| 266 | Bill Flett |
| 267 | Robbie Ftorek |
| 268 | Mike Amodeo |
| 269 | Vic Venasky |
| 270 | Bob Manno |
| 271 | Dan Maloney |
| 272 | Al Sims |
| 273 | Greg Polis |
| 274 | Doug Favell |
| 275 | Pierre Plante |
| 276 | Bob Murdoch |
| 277 | Lyle Moffat |
| 278 | Jack Brownschidle |
| 279 | Dave Keon |
| 280 | Darryl Edestrand |
| 281 | Greg Millen RC |
| 282 | John Gould |
| 283 | Rich Leduc |
| 284 | Ron Delorme |
| 285 | Gord Smith |
| 286 | Nick Fotiu |
| 287 | Kevin McCarthy RC |
| 288 | Jimmy Jones |
| 289 | Pierre Bouchard |
| 290 | Wayne Bianchin |
| 291 | Garry Lariviere |
| 292 | Steve Jensen |
| 293 | John Garrett |
| 294 | Hilliard Graves |
| 295 | Bill Clement |
| 296 | Michel "Bunny" Larocque |
| 297 | Bob Stewart |
| 298 | Doug Patey RC |
| 299 | Dave Farrish |
| 300 | Al Smith |
| 301 | Bill Lochead |
| 302 | Dave Hutchison |
| 303 | Bill Riley |
| 304 | Barry Gibbs |
| 305 | Chris Oddleifson |
| 306 | J.-Bob Kelly |
| 307 | Alan Hangsleben RC |
| 308 | Curt Brackenbury RC |
| 309 | Rick Green |
| 310 | Ken Houston |
| 311 | Greg Joly |
| 312 | Bill Lesuk |
| 313 | Bill Stewart RC |
| 314 | Rick Ley |
| 315 | Brett Callighen RC |
| 316 | Michel Dion |
| 317 | Randy Manery |
| 318 | Barry Dean |
| 319 | Pat Boutette |
| 320 | Mark Heaslip |
| 321 | Dave Inkpen |
| 322 | Jere Gillis |
| 323 | Larry Brown |
| 324 | Alain Cote RC |
| 325 | Gord Lane |
| 326 | Bobby Lalonde |
| 327 | Ed Staniowski |
| 328 | Ron Plumb |
| 329 | Jude Drouin |
| 330 | Rick Hampton |
| 331 | Stan Weir |
| 332 | Blair Stewart |
| 333 | Mike Polich RC |
| 334 | Jean Potvin |
| 335 | Jordy Douglas RC |
| 336 | Joel Quenneville RC |
| 337 | Glen Hanlon RC |
| 338 | Dave Hoyda RC |
| 339 | Colin Campbell |
| 340 | John Smrke RC |
| 341 | Brian Glennie |
| 342 | Don Kozak |
| 343 | Yvon Labre |
| 344 | Curt Bennett |
| 345 | Mike Christie |
| 346 | Checklist |
| 347 | Pat Price |
| 348 | Ron Low |
| 349 | Mike Antonovich |
| 350 | Roland Eriksson |
| 351 | Bob Murdoch |
| 352 | Rob Palmer |
| 353 | Brad Gassoff |
| 354 | Bruce Boudreau |
| 355 | Al Hamilton |
| 356 | Blaine Stoughton |
| 357 | John Baby |
| 358 | Gary Inness |
| 359 | Wayne Dillon |
| 360 | Darcy Rota |
| 361 | Brian Engblom RC |
| 362 | Bill Hogaboam |
| 363 | Dave Debol RC |
| 364 | Pete LoPresti |
| 365 | Gerry Hart |
| 366 | Syl Apps |
| 367 | Jack McIlhargey |
| 368 | Willy Lindstrom |
| 369 | Don "Red" Laurence RC |
| 370 | Chuck Luksa RC |
| 371 | Dave Semenko RC |
| 372 | Paul Baxter RC |
| 373 | Ron Ellis |
| 374 | Leif Svensson RC |
| 375 | Dennis O'Brien |
| 376 | Glenn Goldup |
| 377 | Terry Richardson RC |
| 378 | Peter Sullivan |
| 379 | Doug Hicks |
| 380 | Jamie Hislop RC |
| 381 | Jocelyn Guevremont |
| 382 | Willi Plett |
| 383 | Larry Goodenough |
| 384 | Jim Warner RC |
| 385 | Rey Comeau |
| 386 | Barry Melrose RC |
| 387 | Dave Hunter RC |
| 388 | Wally Weir RC |
| 389 | Mario Lessard RC |
| 390 | Ed Kea |
| 391 | Bob Stephenson RC |
| 392 | Dennis Hextall |
| 393 | Jerry Butler |
| 394 | David Shand |
| 395 | Rick Blight |
| 396 | Lars-Erik Sjoberg |