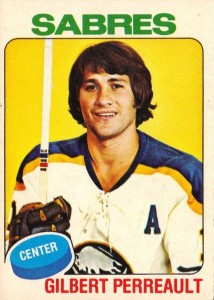 The 1975-76 O-Pee-Chee set features 396 hockey cards of National Hockey League players. Surprisingly, the highest valued rookie card in the set belongs to Harold Snepsts of the Vancouver Canucks. The Snepsts rookie card is number 396, the final card in the collection and is valued at 20 times that of a common card.
Other significant rookie cards in the 1975-76 O-Pee-Chee set include Danny Gare of the Buffalo Sabres, Clark Gillies of the New York Islanders, Pierre Larouche of the Pittsburgh Penguins and Ron Greschner of the Rangers.
The most valuable hockey card in the set belongs to Bobby Orr of the Boston Bruins with Ken Dryden of the Montreal Canadiens not far behind. The Habs were subject to several errors with the Yvan Cournoyer, Doug Risebrough, Guy Lafleur and Mario Tremblay cards all containing various forms of uncorrected errors.
1975-76 O-Pee-Chee Checklist
| | |
| --- | --- |
| Number | Player |
| 1 | Finals (Flyers 4 [Stanley Cup] |
| 2 | Semi-Finals (Flyers 4 [Stanley   Cup] |
| 3 | Semi-Finals (Sabres 4 [Stanley   Cup] |
| 4 | Quarter Finals (Islanders   [Stanley] |
| 5 | Quarter Finals (Canadiens   [Stanley] |
| 6 | Quarter Finals (Sabres 4   [Stanley] |
| 7 | Quarter Finals (Flyers 4   [Stanley] |
| 8 | Curt Bennett |
| 9 | Johnny Bucyk |
| 10 | Gilbert Perreault |
| 11 | Darryl Edestrand |
| 12 | Ivan Boldirev |
| 13 | Nick Libett |
| 14 | Jim McElmury RC |
| 15 | Frank St. Marseille |
| 16 | Blake Dunlop |
| 17 | Yvon Lambert |
| 18 | Gerry Hart |
| 19 | Steve Vickers |
| 20 | Rick MacLeish |
| 21 | Bob Paradise |
| 22 | Gordon "Red" Berenson |
| 23 | Lanny McDonald |
| 24 | Mike Robitaille |
| 25 | Ron Low |
| 27 | Carol Vadnais |
| 28 | Jim Lorentz |
| 29 | Gary Simmons |
| 30 | Stan Mikita |
| 31 | Bryan Watson |
| 32 | Guy Charron |
| 33 | Bob Murdoch |
| 34 | Norm Gratton |
| 35 | Ken Dryden |
| 36 | Jean Potvin |
| 37 | Rick Middleton |
| 38 | Ed Van Impe |
| 39 | Rick Kehoe |
| 40 | Garry Unger |
| 41 | Ian Turnbull |
| 42 | Dennis Ververgaert |
| 43 | Mike Marson RC |
| 44 | Randy Manery |
| 45 | Gilles Gilbert |
| 46 | Rene Robert |
| 47 | Bob Stewart |
| 48 | Hubert "Pit" Martin |
| 49 | Danny Grant |
| 50 | Pete Mahovlich |
| 51 | Dennis Patterson RC |
| 52 | Mike Murphy |
| 53 | Dennis O'Brien |
| 54 | Garry Howatt |
| 55 | Ed Giacomin |
| 56 | Andre Dupont |
| 57 | Chuck Arnason |
| 58 | Bob Gassoff RC |
| 59 | Ron Ellis |
| 60 | Andre Boudrias |
| 61 | Yvon Labre |
| 62 | Hilliard Graves |
| 63 | Wayne Cashman |
| 64 | Danny Gare RC |
| 65 | Rick Hampton |
| 66 | Darcy Rota |
| 67 | Bill Hogaboam |
| 68 | Denis Herron |
| 69 | Sheldon Kannegiesser |
| 70 | Yvan Cournoyer |
| 71 | Ernie Hicke |
| 72 | Bert Marshall |
| 73 | Derek Sanderson |
| 74 | Tom Bladon |
| 75 | Ron Schock |
| 76 | Larry Sacharuk RC |
| 77 | George Ferguson |
| 78 | Ab DeMarco |
| 79 | Tom Williams |
| 80 | Phil Roberto |
| 81 | Boston Bruins Checklist |
| 82 | California Golden Seals Checklist |
| 83 | Buffalo Sabres Checklist |
| 84 | Chicago Blackhawks Checklist |
| 85 | Atlanta Flames Checklist |
| 86 | Los Angeles Kings Checklist |
| 87 | Detroit Red Wings Checklist |
| 88 | Kansas City Scouts Checklist |
| 89 | Minnesota North Stars Checklist |
| 90 | Montreal Canadiens Checklist |
| 91 | Toronto Maple Leafs Checklist |
| 92 | New York Islanders Checklist |
| 93 | Pittsburgh Penguins Checklist |
| 94 | New York Rangers Checklist |
| 95 | Philadelphia Flyers Checklist |
| 96 | St. Louis Blues Checklist |
| 97 | Vancouver Canucks Checklist |
| 98 | Washington Capitals Checklist |
| 99 | Checklist |
| 100 | Bobby Orr |
| 101 | Germain Gagnon |
| 102 | Phil Russell |
| 103 | Bill Lochead |
| 104 | Robin Burns RC |
| 105 | Gary Edwards |
| 106 | Dwight Bialowas |
| 107 | Doug Risebrough RC |
| 108 | Dave Lewis |
| 109 | Bill Fairbairn |
| 110 | Ross Lonsberry |
| 111 | Ron Stackhouse |
| 112 | Claude Larose |
| 113 | Don Luce |
| 114 | Errol Thompson RC |
| 115 | Gary Smith |
| 116 | Jack Lynch |
| 117 | Jacques Richard |
| 118 | Dallas Smith |
| 119 | Dave Gardner |
| 120 | Mickey Redmond |
| 121 | John Marks |
| 122 | Dave Hudson |
| 123 | Bob Nevin |
| 124 | Fred Barrett |
| 125 | Gerry Desjardins |
| 126 | Guy Lafleur |
| 127 | Jean-Paul Parise |
| 128 | Walt Tkaczuk |
| 129 | Gary Dornhoefer |
| 130 | Syl Apps |
| 131 | Bob Plager |
| 132 | Stan Weir |
| 133 | Tracy Pratt |
| 134 | Jack Egers |
| 135 | Eric Vail |
| 136 | Al Sims |
| 137 | Larry Patey RC |
| 138 | Jim Schoenfeld |
| 139 | Cliff Koroll |
| 140 | Marcel Dionne |
| 141 | Jean-Guy Lagace |
| 142 | Juha Widing |
| 143 | Lou Nanne |
| 144 | Serge Savard |
| 145 | Glenn "Chico" Resch |
| 146 | Ron Greschner RC |
| 147 | Dave Schultz |
| 148 | Barry Wilkins |
| 149 | Floyd Thomson |
| 150 | Darryl Sittler |
| 151 | Paulin Bordeleau |
| 152 | Ron Lalonde RC |
| 153 | Larry Romanchych |
| 154 | Larry Carriere |
| 155 | Andre Savard |
| 156 | Dave Hrechkosy RC |
| 157 | Bill White |
| 158 | Dave Kryskow |
| 159 | Denis Dupere |
| 160 | Rogatien Vachon |
| 161 | Doug Rombough |
| 162 | Murray Wilson |
| 163 | Bob Bourne RC |
| 164 | Gilles Marotte |
| 165 | Vic Hadfield |
| 166 | Reggie Leach |
| 167 | Jerry Butler |
| 168 | Inge Hammarstrom |
| 169 | Chris Oddleifson |
| 170 | Greg Joly |
| 171 | Checklist |
| 172 | Pat Quinn |
| 173 | Dave Forbes |
| 174 | Len Frig |
| 175 | Rick Martin |
| 176 | Keith Magnuson |
| 177 | Dan Maloney |
| 178 | Craig Patrick |
| 179 | Tom Williams |
| 180 | Bill Goldsworthy |
| 181 | Steve Shutt |
| 182 | Ralph Stewart |
| 183 | John Davidson |
| 184 | Bob Kelly |
| 185 | Ed Johnston |
| 186 | Dave Burrows |
| 187 | Dave Dunn |
| 188 | Dennis Kearns |
| 189 | Bill Clement |
| 190 | Gilles Meloche |
| 191 | Bob Leiter |
| 192 | Jerry Korab |
| 193 | Joey Johnston |
| 194 | Walt McKechnie |
| 195 | Wilf Paiement |
| 196 | Bob Berry |
| 197 | Dean Talafous RC |
| 198 | Guy Lapointe |
| 199 | Clark Gillies RC |
| 201 | Greg Polis |
| 202 | Jim Watson |
| 203 | Gord McRae RC |
| 204 | Lowell MacDonald |
| 205 | Barclay Plager |
| 206 | Don Lever |
| 207 | Bill Mikkelson |
| 208 | Rick Martin [Goal Leaders] |
| 209 | Pete Mahovlich [Assist Leaders] |
| 210 | Marcel Dionne [Scoring Leaders] |
| 211 | Phil Russell [Penalty Min Leaders] |
| 212 | Danny Grant [Power Play Goal Leaders] |
| 213 | Ken Dryden [Goals Against Average Lea] |
| 214 | Barry Gibbs |
| 215 | Ken Hodge |
| 216 | Jocelyn Guevremont |
| 217 | Warren "Butch" Williams RC |
| 218 | Dick Redmond |
| 219 | Jim Rutherford |
| 220 | Simon Nolet |
| 221 | Robert "Butch" Goring |
| 222 | Glen Sather |
| 223 | Mario Tremblay RC |
| 224 | Jude Drouin |
| 225 | Rod Gilbert |
| 226 | Bill Barber |
| 227 | Gary Inness RC |
| 228 | Wayne Merrick |
| 229 | Rod Seiling |
| 230 | Tom Lysiak |
| 231 | Bob Dailey |
| 232 | Michel Belhumeur |
| 233 | Bill Hajt RC |
| 234 | Jim Pappin |
| 235 | Gregg Sheppard |
| 237 | Randy Rota |
| 238 | Neil Komadoski |
| 239 | Craig Cameron |
| 240 | Tony Esposito |
| 241 | Larry Robinson |
| 242 | Billy Harris |
| 244 | Ted Irvine |
| 245 | Bob Neely |
| 246 | Bobby Lalonde |
| 247 | Ron Jones RC |
| 248 | Rey Comeau |
| 249 | Michel Plasse |
| 250 | Bobby Clarke |
| 251 | Bobby Schmautz |
| 252 | Peter McNab RC |
| 253 | Al MacAdam |
| 254 | Dennis Hull |
| 255 | Terry Harper |
| 256 | Peter McDuffe |
| 257 | Jean Hamel |
| 258 | Jacques Lemaire |
| 259 | Bob Nystrom |
| 260 | Brad Park |
| 261 | Cesare Maniago |
| 262 | Don Saleski |
| 263 | J.-Bob Kelly |
| 264 | Bob Hess RC |
| 265 | Blaine Stoughton |
| 266 | John Gould |
| 268 | Dan Bouchard |
| 269 | Don Marcotte |
| 26A | Bryan Hextall |
| 26B | Bryan Hextall |
| 270 | Jim Neilson |
| 271 | Craig Ramsay |
| 272 | Grant Mulvey RC |
| 273 | Larry Giroux RC |
| 274 | Richard Lemieux |
| 275 | Denis Potvin |
| 276 | Don Kozak |
| 277 | Tom Reid |
| 278 | Bob Gainey |
| 279 | Nick Beverley |
| 27A | Carol Vadnais |
| 27B | Carol Vadnais |
| 280 | Jean Pronovost |
| 281 | Joe Watson |
| 282 | Chuck Lefley |
| 283 | Borje Salming |
| 284 | Garnet "Ace" Bailey |
| 285 | Gregg Boddy |
| 286 | Bobby Clarke [First Team All-Star] |
| 287 | Denis Potvin [First Team All-Star] |
| 288 | Bobby Orr [First Team All-Star] |
| 289 | Rick Martin [First Team All-Star] |
| 290 | Guy Lafleur [First Team All-Star] |
| 291 | Bernie Parent [First Team All-Star] |
| 292 | Phil Esposito [Second Team All-Star] |
| 293 | Guy Lapointe [Second Team All-Star] |
| 294 | Borje Salming [Second Team All-Star] |
| 295 | Steve Vickers [Second Team All-Star] |
| 296 | Rene Robert [Second Team All-Star] |
| 297 | Rogatien Vachon [Second Team All-Star] |
| 298 | Fred "Buster" Harvey |
| 299 | Gary Sabourin |
| 300 | Bernie Parent |
| 301 | Terry O'Reilly |
| 302 | Ed Westfall |
| 303 | Pete Stemkowski |
| 304 | Pierre Bouchard |
| 305 | Pierre Larouche RC |
| 306 | Lee Fogolin RC |
| 307 | Gerry O'Flaherty |
| 308 | Phil Myre |
| 309 | Pierre Plante |
| 310 | Dennis Hextall |
| 311 | Jim McKenny |
| 312 | Vic Venasky |
| 313 | Tom Lysiak [Flames Leaders] |
| 314 | Boston Bruins Team Leaders |
| 315 | Rene Robert [Sabres Leaders] |
| 316 | Stan Weir [Seals Leaders] |
| 317 | Jim Pappin [Black Hawks Leaders] |
| 318 | Marcel Dionne [Red Wings Leaders] |
| 319 | Guy Charron [Scouts Leaders] |
| 320 | Bob Berry [Kings Leaders] |
| 321 | Dennis Hextall [North Stars Leaders] |
| 322 | Pete Mahovlich [Canadiens Leaders] |
| 323 | Clark Gillies RC [Islanders Leaders] |
| 324 | Jean Ratelle [Rangers Leaders] |
| 325 | Bobby Clarke [Flyers Leaders] |
| 326 | Ron Schock [Penguins Leaders] |
| 327 | Larry Sacharuk RC [Blues Leaders] |
| 328 | Darryl Sittler [Maple Leafs Leaders] |
| 329 | Andre Boudrias [Canucks Leaders] |
| 330 | Garnet "Ace" Bailey [Capitals Leaders] |
| 331 | Noel Price |
| 332 | Fred Stanfield |
| 333 | Doug Jarrett |
| 334 | Gary Coalter |
| 335 | Murray Oliver |
| 336 | Dave Fortier |
| 337 | Terry Crisp |
| 338 | Bert Wilson |
| 339 | John Grisdale RC |
| 340 | Ken Broderick |
| 341 | Frank Spring RC |
| 342 | Mike Korney RC |
| 343 | Gene Carr |
| 344 | Don Awrey |
| 345 | Pat Hickey |
| 346 | Colin Campbell RC |
| 347 | Wayne Thomas |
| 348 | Bob Gryp RC |
| 349 | Bill Flett |
| 350 | Roger Crozier |
| 351 | Dale Tallon |
| 352 | Larry Johnston |
| 353 | John Flesch RC |
| 354 | Lorne Henning |
| 355 | Wayne Stephenson |
| 356 | Rick Wilson |
| 357 | Garry Monahan |
| 358 | Gary Doak |
| 360 | George Pesut RC |
| 361 | Mike Corrigan |
| 362 | Michel "Bunny" Larocque |
| 363 | Wayne Dillon |
| 364 | Pete Laframboise |
| 365 | Brian Glennie |
| 366 | Mike Christie |
| 367 | Jean Lemieux RC |
| 368 | Gary Bromley |
| 369 | J.P. Bordeleau |
| 370 | Ed Gilbert RC |
| 371 | Chris Ahrens |
| 372 | Billy Smith |
| 373 | Larry Goodenough RC |
| 374 | Leon Rochefort |
| 375 | Doug Gibson RC |
| 376 | Mike Bloom |
| 377 | Larry Brown |
| 378 | Jim Roberts |
| 379 | Gilles Villemure |
| 380 | Dennis Owchar RC |
| 381 | Doug Favell |
| 382 | Stan Gilbertson |
| 383 | Ed Kea RC |
| 384 | Brian Spencer |
| 385 | Mike Veisor RC |
| 386 | Bob Murray |
| 387 | Andre St. Laurent RC |
| 388 | Rick Chartraw RC |
| 389 | Orest Kindrachuk |
| 390 | Dave Hutchison RC |
| 391 | Glenn Goldup |
| 392 | Jerry Holland RC |
| 393 | Peter Sturgeon RC |
| 394 | Alain Daigle RC |
| 395 | ** NEVER ISSUED ** |
| 396 | Harold Snepsts RC |
| 200A | Phil Esposito |
| 200B | Phil Esposito |
| 236A | Gary Bergman |
| 236B | Gary Bergman |
| 243A | Jean Ratelle |
| 243B | Jean Ratelle |
| 260A | Brad Park |
| 260B | Brad Park |
| 267A | Checklist |
| 267B | Checklist |
| 359A | Pierre Jarry |
| 359B | Pierre Jarry |