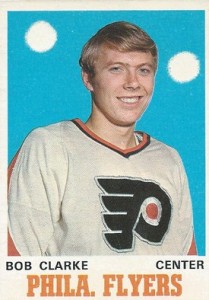 The 1970-71 O-Pee-Chee set consists of 264 hockey cards. The nearly identically designed Topps set consists of half that at 132 cards and is missing the majorly important rookie cards of Bobby Clarke, Gilbert Perreault and Darryl Sittler.
The trio of Clarke, Perreault and Sittler are certainly quite valuable but the highlight of the 1970-71 set is the number 3 card of Bobby Orr. The only other cards as valuable are the checklists.
Another major feature of the O-Pee-Chee set, that is not included in the Topps set, are the many trophy cards of Bobby Orr including the Hart Trophy, Art Ross Trophy, Conn Smythe Trophy and Norris Trophy. Also not included in the Topps set is Orr's All-Star card.
Terry Sawchuk is memorialized on card number 231 after passing away in the summer of 1970.
1970-71 O-Pee-Chee NHL Hockey Card Checklist
| | |
| --- | --- |
| Number | Player |
| 1 | Gerry Cheevers |
| 2 | Johnny Bucyk |
| 3 | Bobby Orr |
| 4 | Don Awrey |
| 5 | Fred Stanfield |
| 6 | John McKenzie |
| 7 | Wayne Cashman RC  |
| 8 | Ken Hodge |
| 9 | Wayne Carleton |
| 10 | Garnet "Ace" Bailey RC |
| 11 | Phil Esposito |
| 12 | Lou Angotti |
| 13 | Jim Pappin |
| 14 | Dennis Hull |
| 15 | Bobby Hull |
| 16 | Doug Mohns |
| 17 | Pat Stapleton |
| 18 | Hubert "Pit" Martin |
| 19 | Eric Nesterenko |
| 20 | Stan Mikita |
| 21 | Roy Edwards |
| 22 | Frank Mahovlich |
| 23 | Ron Harris |
| 24 | Checklist |
| 25 | Pete Stemkowski |
| 26 | Garry Unger |
| 27 | Bruce MacGregor |
| 28 | Larry Jeffrey |
| 29 | Gordie Howe |
| 30 | Billy Dea |
| 31 | Denis DeJordy |
| 32 | Matt Ravlich |
| 33 | Dave Amadio |
| 34 | Gilles Marotte |
| 35 | Eddie Shack |
| 36 | Bob Pulford |
| 37 | Ross Lonsberry |
| 38 | Gord Labossiere |
| 39 | Eddie Joyal |
| 40 | Lorne "Gump" Worsley |
| 41 | Bob McCord |
| 42 | Leo Boivin |
| 43 | Tom Reid RC |
| 44 | Charlie Burns |
| 45 | Bob Barlow |
| 46 | Bill Goldsworthy |
| 47 | Danny Grant |
| 48 | Norm Beaudin RC |
| 49 | Rogatien Vachon |
| 50 | Yvan Cournoyer |
| 51 | Serge Savard |
| 52 | Jacques Laperriere |
| 53 | Terry Harper |
| 54 | Ralph Backstrom |
| 55 | Jean Beliveau |
| 56 | Claude Larose |
| 57 | Jacques Lemaire |
| 58 | Pete Mahovlich |
| 59 | Tim Horton |
| 60 | Bob Nevin |
| 61 | Dave Balon |
| 62 | Vic Hadfield |
| 63 | Rod Gilbert |
| 64 | Ron Stewart |
| 65 | Ted Irvine |
| 66 | Arnie Brown |
| 67 | Brad Park RC |
| 68 | Ed Giacomin |
| 69 | Gary Smith |
| 70 | Carol Vadnais |
| 71 | Doug Roberts |
| 72 | Harry Howell |
| 73 | Joe Szura |
| 74 | Mike Laughton |
| 75 | Gary Jarrett |
| 76 | Bill Hicke |
| 77 | Paul Andrea RC |
| 78 | Bernie Parent |
| 79 | Joe Watson |
| 80 | Ed Van Impe |
| 81 | Larry Hillman |
| 82 | George Swarbrick |
| 83 | Bill Sutherland |
| 84 | Andre Lacroix |
| 85 | Gary Dornhoefer |
| 86 | Jean-Guy Gendron |
| 87 | Al Smith RC |
| 88 | Bob Woytowich |
| 89 | Duane Rupp |
| 90 | Jim Morrison |
| 91 | Ron Schock |
| 92 | Ken Schinkel |
| 93 | Keith McCreary |
| 94 | Bryan Hextall |
| 95 | Wayne Hicks RC |
| 96 | Gary Sabourin |
| 97 | Ernie Wakely RC  |
| 98 | Bob Wall |
| 99 | Barclay Plager |
| 100 | Jean-Guy Talbot |
| 101 | Gary Veneruzzo |
| 102 | Tim Ecclestone |
| 103 | Gordon "Red" Berenson |
| 104 | Larry Keenan |
| 105 | Bruce Gamble |
| 106 | Jim Dorey |
| 107 | Mike Pelyk RC |
| 108 | Rick Ley |
| 109 | Mike Walton |
| 110 | Norm Ullman |
| 111 | Brit Selby |
| 112 | Garry Monahan |
| 113 | George Armstrong |
| 114 | Gary Doak |
| 115 | Darryl Sly RC |
| 116 | Wayne Maki |
| 117 | Orland Kurtenbach |
| 118 | Murray Hall |
| 119 | Marc Reaume |
| 120 | Pat Quinn |
| 121 | Andre Boudrias |
| 122 | Poul Popiel |
| 123 | Paul Terbenche |
| 124 | Howie Menard |
| 125 | Gerry Meehan RC |
| 126 | Phil "Skip" Krake |
| 127 | Phil Goyette |
| 128 | Reg Fleming |
| 129 | Don Marshall |
| 130 | Bill Inglis RC |
| 131 | Gilbert Perreault RC |
| 132 | Checklist |
| 133 | Ed Johnston |
| 134 | Ted Green |
| 135 | Rick Smith RC |
| 136 | Derek Sanderson |
| 137 | Dallas Smith |
| 138 | Don Marcotte RC |
| 139 | Ed Westfall |
| 140 | Floyd Smith |
| 141 | Randy Wyrozub RC |
| 142 | Cliff Schmautz RC |
| 143 | Mike McMahon |
| 144 | Jim Watson |
| 145 | Roger Crozier |
| 146 | Tracy Pratt |
| 147 | Cliff Koroll RC |
| 148 | Gerry Pinder RC |
| 149 | Ron "Chico" Maki |
| 150 | Doug Jarrett |
| 151 | Keith Magnuson RC  |
| 152 | Gerry Desjardins |
| 153 | Tony Esposito |
| 154 | Gary Bergman |
| 155 | Tom Webster RC |
| 156 | Dale Rolfe |
| 157 | Alex Delvecchio |
| 158 | Nick Libett |
| 159 | Wayne Connelly |
| 160 | Mike Byers RC |
| 161 | Bill Flett |
| 162 | Larry Mickey |
| 163 | Noel Price |
| 164 | Larry Cahan |
| 165 | Jack Norris RC |
| 166 | Ted Harris |
| 167 | Murray Oliver |
| 168 | Jean-Paul Parise |
| 169 | Tom Williams |
| 170 | Bobby Rousseau |
| 171 | Jude Drouin RC |
| 172 | Walt McKechnie RC |
| 173 | Cesare Maniago |
| 174 | Rejean Houle RC |
| 175 | Mickey Redmond |
| 176 | Henri Richard |
| 177 | Guy Lapointe RC |
| 178 | J.C. Tremblay |
| 179 | Marc Tardif RC |
| 180 | Walt Tkaczuk |
| 181 | Jean Ratelle |
| 182 | Pete Stemkowski |
| 183 | Gilles Villemure |
| 184 | Rod Seiling |
| 185 | Jim Neilson |
| 186 | Dennis Hextall |
| 187 | Gerry Ehman |
| 188 | Bert Marshall |
| 189 | Gary Croteau RC |
| 190 | Ted Hampson |
| 191 | Earl Ingarfield |
| 192 | Dick Mattiussi |
| 193 | Earl Heiskala |
| 194 | Simon Nolet |
| 195 | Bobby Clarke RC |
| 196 | Garry Peters |
| 197 | Lew Morrison RC |
| 198 | Wayne Hillman |
| 199 | Doug Favell |
| 200 | Les Binkley |
| 201 | Dean Prentice |
| 202 | Jean Pronovost |
| 203 | Wally Boyer |
| 204 | Bryan Watson |
| 205 | Glen Sather |
| 206 | Lowell MacDonald |
| 207 | Andy Bathgate |
| 208 | Val Fonteyne |
| 209 | Jim Lorentz RC |
| 210 | Glenn Hall |
| 211 | Bob Plager |
| 212 | Noel Picard |
| 213 | Jim Roberts |
| 214 | Frank St. Marseille |
| 215 | Ab McDonald |
| 216 | Brian Glennie RC |
| 217 | Paul Henderson |
| 218 | Darryl Sittler RC |
| 219 | Dave Keon |
| 220 | Jim Harrison RC |
| 221 | Ron Ellis |
| 222 | Jacques Plante |
| 223 | Bob Baun |
| 224 | George Gardner RC |
| 225 | Dale Tallon RC |
| 226 | Rosaire Paiement RC |
| 227 | Mike Corrigan RC |
| 228 | Ray Cullen |
| 229 | Charlie Hodge |
| 230 | Len Lunde |
| 231 | Terry Sawchuk |
| 232 | Stanley Cup Champs [Boston Bruins Team] |
| 233 | The Esposito Line |
| 234 | Tony Esposito [First Team All-Star] |
| 235 | Bobby Hull [First Team All-Star] |
| 236 | Bobby Orr [First Team All-Star] |
| 237 | Phil Esposito [First Team All-Star] |
| 238 | Gordie Howe [First Team All-Star] |
| 239 | Brad Park RC [First Team All-Star] |
| 240 | Stan Mikita [Second Team All-Star] |
| 241 | John McKenzie [Second Team All-Star] |
| 242 | Frank Mahovlich [Second Team All-Star] |
| 243 | Carl Brewer [Second Team All-Star] |
| 244 | Ed Giacomin [Second Team All-Star] |
| 245 | Jacques Laperriere [Second Team All-Star] |
| 246 | Bobby Orr [Hart Trophy] |
| 247 | Tony Esposito [Calder Trophy] |
| 248 | Bobby Orr [Norris Trophy] |
| 249 | Bobby Orr [Art Ross Trophy] |
| 250 | Tony Esposito [Vezina Trophy] |
| 251 | Phil Goyette [Lady Byng Trophy] |
| 252 | Bobby Orr [Conn Smythe] |
| 253 | Hubert "Pit" Martin [Masterton Award] |
| 254 | The Stanley Cup |
| 255 | Prince of Wales Trophy |
| 256 | Conn Smythe Trophy |
| 257 | James Norris Trophy |
| 258 | Calder Trophy |
| 259 | Vezina Trophy |
| 260 | Lady Byng Trophy |
| 261 | Hart Trophy |
| 262 | Art Ross Trohpy |
| 263 | Clarence Campbell Bowl |
| 264 | John Ferguson |
| 111A | Brit Selby |
| 111B | Brit Selby |
| 175A | Mickey Redmond |
| 175B | Mickey Redmond |
| 248A | Bobby Orr [Norris Trophy] |
| 248B | Bobby Orr [Norris Trophy] |