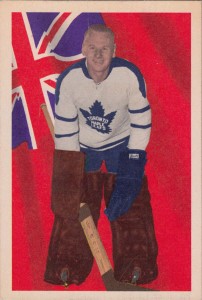 The end of the line for Parkhurst, the 1963-64 set would be the last with Topps being the monopoly for the next few years. This set consists of 99 hockey cards featuring players from just the Toronto Maple Leafs, Montreal Canadiens and Detroit Red Wings.
These are some of Parkhurst's most plain cards since their original 1951-52 set that featured blank backs. The backs of these 1963-64 cards has some vital stats along with each player's numbers from 1962-63. The rest of the card is dedicated to selling various mail order products.
The most valuable rookie cards belong to Cesare Maniago of the Canadiens and Alex Faulkner of the Red Wings. Other significant RCs include Red Berenson, Jacques Laperriere, John Ferguson and Terry Harper.
The most valuable hockey card in the set belongs to Gordie Howe. Terry Sawchuk and Tim Horton are two other definite must-have cards.
1963-64 Parkhurst NHL Hockey Card Checklist
| | |
| --- | --- |
| Number | Player |
| 1 | Allan Stanley |
| 2 | Don Simmons |
| 3 | Leonard "Red" Kelly |
| 4 | Dick Duff |
| 5 | Johnny Bower |
| 6 | Ed Litzenberger |
| 7 | Kent Douglas RC |
| 8 | Carl Brewer |
| 9 | Eddie Shack |
| 10 | Bob Nevin |
| 11 | Billy Harris |
| 12 | Bob Pulford |
| 13 | George Armstrong |
| 14 | Ron Stewart |
| 15 | John MacMillan RC |
| 16 | Tim Horton |
| 17 | Frank Mahovlich |
| 18 | Bob Baun |
| 19 | George "Punch" Imlach [Assistant Coach/General M] |
| 20 | Francis "King" Clancy [Assistant Coach] |
| 21 | Gilles Tremblay |
| 22 | Jean-Guy Talbot |
| 23 | Henri Richard |
| 24 | Ralph Backstrom |
| 25 | Bill Hicke |
| 26 | Gordon "Red" Berenson RC |
| 27 | Jacques Laperriere RC |
| 28 | Jean Gauthier RC |
| 29 | Bernie "Boom-Boom" Geoffrion |
| 30 | Jean Beliveau |
| 31 | J.C. Tremblay |
| 32 | Terry Harper RC |
| 33 | John Ferguson RC |
| 34 | Hector "Toe" Blake [Coach] |
| 35 | Bobby Rousseau |
| 36 | Claude Provost |
| 37 | Marc Reaume |
| 38 | Dave Balon |
| 39 | Lorne "Gump" Worsley |
| 40 | Cesare Maniago RC |
| 41 | Bruce MacGregor |
| 42 | Alex Faulkner RC |
| 43 | Pete Goegan |
| 44 | Parker MacDonald |
| 45 | Andre Pronovost |
| 46 | Marcel Pronovost |
| 47 | Bob Dillabough RC |
| 48 | Larry Jeffrey RC |
| 49 | Ian Cushenan |
| 50 | Alex Delvecchio |
| 51 | Hank Ciesla |
| 52 | Norm Ullman |
| 53 | Terry Sawchuk |
| 54 | Ron Ingram RC |
| 55 | Gordie Howe |
| 56 | Billy McNeill |
| 57 | Floyd Smith RC |
| 58 | Vic Stasiuk |
| 59 | Bill Gadsby |
| 60 | Doug Barkley RC |
| 61 | Allan Stanley |
| 62 | Don Simmons |
| 63 | Leonard "Red" Kelly |
| 64 | Dick Duff |
| 65 | Johnny Bower |
| 66 | Ed Litzenberger |
| 67 | Kent Douglas RC |
| 68 | Carl Brewer |
| 69 | Eddie Shack |
| 70 | Bob Nevin |
| 71 | Billy Harris |
| 72 | Bob Pulford |
| 73 | George Armstrong |
| 74 | Ron Stewart |
| 75 | Dave Keon |
| 76 | Tim Horton |
| 77 | Frank Mahovlich |
| 78 | Bob Baun |
| 79 | George "Punch" Imlach [Assistant Coach/General M] |
| 80 | Gilles Tremblay |
| 81 | Jean-Guy Talbot |
| 82 | Henri Richard |
| 83 | Ralph Backstrom |
| 84 | Bill Hicke |
| 85 | Gordon "Red" Berenson RC |
| 86 | Jacques Laperriere RC |
| 87 | Jean Gauthier RC |
| 88 | Bernie Geoffrion |
| 89 | Jean Beliveau |
| 90 | J.C. Tremblay |
| 91 | Terry Harper RC |
| 92 | John Ferguson RC |
| 93 | Hector "Toe" Blake [Coach] |
| 94 | Bobby Rousseau |
| 95 | Claude Provost |
| 96 | Marc Reaume |
| 97 | Dave Balon |
| 98 | Lorne "Gump" Worsley |
| 99 | Cesare Maniago RC |