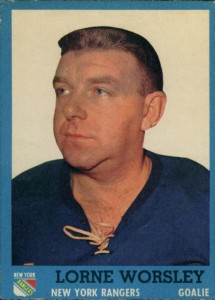 The 1962-63 Topps set consists of 66 hockey cards featuring players from the Boston Bruins, Chicago Blackhawks and New York Rangers. The top three valued cards belong to Bobby Hull and Stan Mikita of the Chicago Blackhawks and the checklist card. The checklist falls as number 66 in the set and is valued high like many of its kind in the 1960's. In fact, the 1962-63 Topps checklist was just the second of its kind, with the first checklist card appearing as number 66 in the 1961-62 Topps set.
1962-63 marked the second year that team pictures were included in the set. The team pictures of the Blackhawks, Bruins and Rangers were not in checklist of team leader form like most team pictures would be in later years. On the back was a short one paragraph blurb about the team.
There are no overpowering rookie cars in the set. The most valuable belong to Bruce Gamble, Chico Maki, Bob Perreault, Jim Neilson and Vic Hadfield.
1962-63 Topps NHL Video
1962-63 Topps NHL Hockey Card Checklist
| | |
| --- | --- |
| Number | Player |
| 1 | Phil Watson [Coach] |
| 2 | Bob Perreault RC |
| 3 | Bruce Gamble RC |
| 4 | Warren Godfrey |
| 5 | Leo Boivin |
| 6 | Doug Mohns |
| 7 | Ted Green |
| 8 | Pat Stapleton |
| 9 | Dallas Smith |
| 10 | Don McKenney |
| 11 | Johnny Bucyk |
| 12 | Murray Oliver |
| 13 | Jerry Toppazzini |
| 14 | Cliff Pennington |
| 15 | Charlie Burns |
| 16 | Jean-Guy Gendron |
| 17 | Irv Spencer |
| 18 | Wayne Connelly |
| 19 | Andre Pronovost |
| 20 | Terry Gray |
| 21 | Tom Williams RC |
| 22 | Boston Bruins [Team Card] |
| 23 | Rudy Pilous [Coach] |
| 24 | Glenn Hall |
| 25 | Denis DeJordy |
| 26 | Jack Evans |
| 27 | Elmer Vasko |
| 28 | Pierre Pilote |
| 29 | Bob Turner |
| 30 | Dollard St. Laurent |
| 31 | Wayne Hillman |
| 32 | Al MacNeil |
| 33 | Bobby Hull |
| 34 | Stan Mikita |
| 35 | Bill Hay |
| 36 | Murray Balfour |
| 37 | Ron "Chico" Maki RC |
| 38 | Ab McDonald |
| 39 | Ken Wharram |
| 40 | Ron Murphy |
| 41 | Eric Nesterenko |
| 42 | Reg Fleming |
| 43 | Murray Hall RC |
| 44 | Chicago Blackhawks [Team] |
| 45 | Lorne "Gump" Worsley |
| 46 | Harry Howell |
| 47 | Albert Langlois |
| 48 | Larry Cahan |
| 49 | Jim Neilson RC |
| 50 | Al LeBrun |
| 51 | Earl Ingarfield |
| 52 | Andy Bathgate |
| 53 | Dean Prentice |
| 54 | Andy Hebenton |
| 55 | Ted Hampson |
| 56 | Dave Balon RC |
| 57 | Bert Olmstead |
| 58 | Jean Ratelle |
| 59 | Rod Gilbert |
| 60 | Vic Hadfield RC |
| 61 | Frank Paice [Trainer] |
| 62 | Camille Henry |
| 63 | Bronco Horvath |
| 64 | Pat Hannigan |
| 65 | New York Rangers [Team] |
| 66 | Checklist |