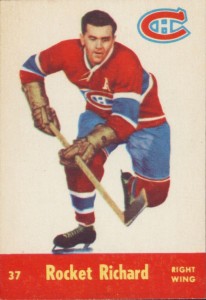 The 1955-56 Parkhurst NHL set consists of 79 hockey cards featuring players from the Montreal Canadiens and Toronto Maple Leafs. Also including are several In Action cards along with a group of All-Time Greats.
After entering the market for the 1954-55 season, Topps did not produce a set in 1955-56. This meant that the four American based teams were not put on cardboard in 1955-56. The following year, neither Topps or Parkhurst produced a set and 1956-57 was a lost year in the hockey card world. Both were back for the 1957-58 National Hockey League season.
The 1955-56 Parkhurst set is led in value by the Jacques Plante rookie card. The first card for the Montreal Canadiens legendary goalie has a book value of $800. Other cards of great value in the set include thoses of Maurice Richard, Jean Beliveau and Tim Horton. It was also the only time the Montreal Forum and Toronto Maple Leaf Gardens had their own hockey cards. Both are highly valued and highly coveted.

| | |
| --- | --- |
| Number | Player |
| 1 | Harry Lumley |
| 2 | Sid Smith |
| 3 | Tim Horton |
| 4 | George Armstrong |
| 5 | Ron Stewart |
| 6 | Joe Klukay |
| 7 | Marc Reaume RC |
| 8 | Jim Morrison |
| 9 | Parker MacDonald RC  |
| 10 | Tod Sloan |
| 11 | Jim Thomson |
| 12 | Rudy Migay |
| 13 | Brian Cullen RC |
| 14 | Hugh Bolton |
| 15 | Eric Nesterenko |
| 16 | Larry Cahan RC |
| 17 | Willie Marshall RC |
| 18 | Dick Duff RC |
| 19 | Jack Caffery RC |
| 20 | Billy Harris RC |
| 21 | Lorne Chabot |
| 22 | Harvey "Busher" Jackson |
| 23 | Walter "Turk" Broda |
| 24 | Joe Primeau |
| 25 | Gordie Drillon |
| 26 | Charlie Conacher |
| 27 | David "Sweeney" Schriner |
| 28 | Syl Apps |
| 29 | Ted Kennedy |
| 30 | Irvine "Ace" Bailey |
| 31 | Walter "Babe" Pratt RC |
| 32 | Harold "Baldy" Cotton |
| 33 | Francis "King" Clancy |
| 34 | Clarence "Happy" Day |
| 35 | Don Marshall RC  |
| 36 | Jack LeClair RC |
| 37 | Maurice "Rocket" Richard |
| 38 | Dickie Moore |
| 39 | Ken Mosdell |
| 40 | Floyd Curry |
| 41 | Calum MacKay |
| 42 | Bert Olmstead |
| 43 | Bernie "Boom-Boom" Geoffrion |
| 44 | Jean Beliveau |
| 45 | Doug Harvey |
| 46 | Emile "Butch" Bouchard |
| 47 | Jim "Bud" MacPherson |
| 48 | Dollard St. Laurent |
| 49 | Tom Johnson |
| 50 | Jacques Plante RC |
| 51 | Paul Meger |
| 52 | Gerry McNeil |
| 53 | Jean-Guy Talbot RC |
| 54 | Bob Turner RC |
| 55 | Edward "Newsy" Lalonde |
| 56 | Georges Vezina |
| 57 | Howie Morenz |
| 58 | Aurel Joliat |
| 59 | George Hainsworth |
| 60 | Sylvio Mantha |
| 61 | Albert "Battleship" Leduc |
| 62 | Albert "Babe" Siebert |
| 63 | Bill Durnan RC |
| 64 | Ken Reardon RC |
| 65 | Johnny Gagnon |
| 66 | Billy Reay |
| 67 | Hector "Toe" Blake [Coach] |
| 68 | Frank Selke RC [General Manager] |
| 69 | Charlie Hodge RC [Hugh beats Hodge]  |
| 70 | Lum stops Boom Boom |
| 71 | Plante is protected |
| 72 | Maurice "Rocket" Richard [Rocket roars through] |
| 73 | Richard tests Lumley |
| 74 | Beliveau bats puck |
| 75 | Leaf speedsters attack |
| 76 | Jim Morrison [Curry scores again] |
| 77 | Jean Beliveau [Jammed on the boards] |
| 78 | The Montreal Forum |
| 79 | Maple Leafs Garden |