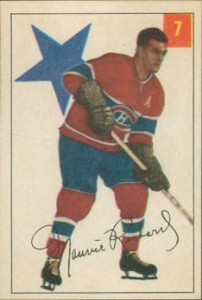 The 1954-55 Parkhurst set consists of 100 hockey cards featuring players from all six National Hockey League teams. The set features some outstanding in action photography and provides insight into the world of professional hockey in the 1950's, providing summer job info for most players.
Gordie Howe of the Detroit Red Wings is on the front of the most valuable card in the set with Maurice Richard of the Montreal Canadiens not far behind. Johnny Bower of the New York Rangers has the top valued rookie card in the set.
Other significant rookie cards belong to Fred Sasakamoose of the Chicago Blackhawks and Doug Mohns of the Boston Bruins. Other high value card belong to Jean Beliveau, Tim Horton and Terry Sawchuk.
1954-55 Parkhurst NHL Checklist
| | |
| --- | --- |
| Number | Player |
| 1 | Gerry McNeil |
| 2 | Dickie Moore |
| 3 | Jean Beliveau |
| 4 | Eddie Mazur |
| 5 | Bert Olmstead |
| 6 | Emile "Butch" Bouchard |
| 7 | Maurice "Rocket" Richard |
| 8 | Bernie "Boom-Boom" Geoffrion |
| 9 | John McCormack |
| 10 | Tom Johnson |
| 11 | Calum MacKay |
| 12 | Ken Mosdell |
| 13 | Paul Masnick |
| 14 | Doug Harvey |
| 15 | Floyd Curry |
| 16 | Harry Lumley |
| 17 | Harry Watson |
| 18 | Jim Morrison |
| 19 | Eric Nesterenko |
| 20 | Fern Flaman |
| 21 | Rudy Migay |
| 22 | Sid Smith |
| 23 | Ron Stewart |
| 24 | George Armstrong |
| 25 | Earl Balfour RC |
| 26 | Leo Boivin |
| 27 | Gord Hannigan |
| 28 | Bob Bailey RC |
| 29 | Ted Kennedy |
| 30 | Tod Sloan |
| 31 | Tim Horton |
| 32 | Jim Thomson |
| 33 | Terry Sawchuk |
| 34 | Marcel Pronovost |
| 35 | Metro Prystai |
| 36 | Alex Delvecchio |
| 37 | Earl "Dutch" Reibel |
| 38 | Benny Woit |
| 39 | Bob Goldham |
| 40 | Glen Skov |
| 41 | Gordie Howe |
| 42 | Leonard "Red" Kelly |
| 43 | Marty Pavelich |
| 44 | Johnny Wilson |
| 45 | Tony Leswick |
| 46 | Ted Lindsay |
| 47 | Keith "Bingo" Allen RC |
| 48 | Bill Dineen |
| 49 | Jim Henry |
| 50 | Fleming Mackell |
| 51 | Bill Quackenbush |
| 52 | Hal Laycoe |
| 53 | Cal Gardner |
| 54 | Joe Klukay |
| 55 | Bob Armstrong |
| 56 | Warren Godfrey |
| 57 | Doug Mohns RC |
| 58 | Dave Creighton |
| 59 | Milt Schmidt |
| 60 | Johnny Peirson |
| 61 | Leo Labine |
| 62 | Gus Bodnar |
| 63 | Real Chevrefils |
| 64 | Ed Sandford |
| 65 | Johnny Bower RC |
| 66 | Paul Ronty |
| 67 | Leo Reise |
| 68 | Don Raleigh |
| 69 | Bob Chrystal RC |
| 70 | Harry Howell |
| 71 | Wally Hergesheimer |
| 72 | Jack Evans |
| 73 | Camille Henry RC |
| 74 | Dean Prentice RC |
| 75 | Nick Mickoski |
| 76 | Ron Murphy RC |
| 77 | Al Rollins |
| 78 | Al Dewsbury |
| 79 | Lou Jankowski RC |
| 80 | George "Hully" Gee |
| 81 | Gus Mortson |
| 82 | Fred Sasakamoose RC |
| 83 | Ike Hildebrand RC |
| 84 | Lee Fogolin |
| 85 | Larry Wilson |
| 86 | Pete Conacher |
| 87 | Bill Gadsby |
| 88 | Jack McIntyre |
| 89 | Floyd Curry goes up and |
| 90 | Delvecchio finds Leaf def |
| 91 | Battle of All-Stars |
| 92 | Lum stops Howe with help |
| 93 | Netminders nightmare |
| 94 | Meger goes down and under |
| 95 | Harvey takes nosedive |
| 96 | Terry boots out Teeder's |
| 97 | Reibel tests Habs rookie |
| 98 | Plante protects against s |
| 99 | Placid Plante foils tirel |
| 100 | Sawchuk stops Boom-Boom |