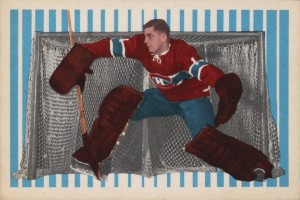 1963-64 simply wasn't a banner year for rookie cards in the hockey card world. Surprisingly, the highest valued rookie card in the 1963-64 Parkhurst set is that of Cesare Maniago of the Montreal Canadiens. Maniago was featured on two different cards in the set, both considered rookie cards. However, it's number 99 that is the highest valued at $175. Number 40 is worth a decent $50.
Cesare Maniago
The 1963-64 Parkhurst set consists of 99 hockey cards and a full set is valued at $2500. The only card valued higher that Maniago's #99 is number 55 featuring Gordie Howe of the Detroit Red Wings. That card is valued at $450. 1963-64, of course, was the last set produced by Parkhurst.
Cesare Maniago played in the National Hockey League from 1960-61 to 1977-78. However, it wasn't until the 1967-68 expansion season before he became a starting goaltender. Cesare's first NHL action came in 1960-61 with the Toronto Maple Leafs. He played in seven games that season while also played for the Vancouver Canucks and Spokane Comets of the WHL, along with the Sudbury Wolves of the EPHL.


Two years later, in 1962-63, Maniago played fourteen games for the Montreal Canadiens as starter Jacques Plante sat out with injuries. He would then wait the better part of three seasons before getting fairly regular action with the New York Rangers. In 1965-66, he competed for the starter role with Ed Giacomin, appearing in 28 of the team's 70 games. Giamcomin won the role and Maniago was reduced to just six games the following season.
In the 1967 NHL Expansion Draft, Cesare was taken fourth overall by the Minnesota North Stars. Just Terry Sawchuk, Bernie Parent and Glenn Hall went before him. All three of those players are now enshrined in the Hockey Hall of Fame.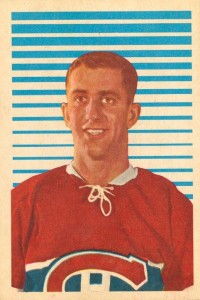 With Minnesota, Maniago was the starting goaltender for the next nine years. He goes down in North Stars history as the goalie with the most games played and most wins. In the extended Dallas Stars franchise, Cesare ranks second in games played by a goalie and third in wins and shutouts.
Maniago rounded out his NHL career with two years as the starter with the Vancouver Canucks.  He returned to that club for the 1988-89 season for one year behind the bench as assitant coach.
Never a Stanley Cup champion in the NHL, Maniago led the Hull-Ottawa Canadiens to an EPHL championship during the 1961-62 season. His only major individual accolade came in 1964-65 with the Minneapolis Bruins of the CPHL when he was named league MVP.
Check out the two Cesare Maniago rookie cards in our Virtual Collection:
Cesare Maniago Career Stats
| | | | | | | | |
| --- | --- | --- | --- | --- | --- | --- | --- |
| Season | Team | Lge | GP | A | PIM | SO | GAA |
| 1960-61 | Toronto Maple Leafs | NHL | 7 | 0 | 2 | 0 | 2.43 |
| 1962-63 | Montreal Canadiens | NHL | 14 | 0 | 2 | 0 | 3.07 |
| 1965-66 | New York Rangers | NHL | 28 | 2 | 2 | 2 | 3.5 |
| 1966-67 | New York Rangers | NHL | 6 | 0 | 0 | 0 | 3.84 |
| 1967-68 | Minnesota North Stars | NHL | 52 | 0 | 12 | 6 | 2.77 |
| 1968-69 | Minnesota North Stars | NHL | 64 | 0 | 12 | 1 | 3.3 |
| 1969-70 | Minnesota North Stars | NHL | 50 | 0 | 0 | 2 | 3.39 |
| 1970-71 | Minnesota North Stars | NHL | 40 | 1 | 2 | 5 | 2.7 |
| 1971-72 | Minnesota North Stars | NHL | 43 | 0 | 4 | 3 | 2.65 |
| 1972-73 | Minnesota North Stars | NHL | 47 | 0 | 2 | 5 | 2.89 |
| 1973-74 | Minnesota North Stars | NHL | 40 | 0 | 2 | 1 | 3.48 |
| 1974-75 | Minnesota North Stars | NHL | 37 | 0 | 2 | 1 | 4.2 |
| 1975-76 | Minnesota North Stars | NHL | 47 | 0 | 11 | 2 | 3.35 |
| 1976-77 | Vancouver Canucks | NHL | 47 | 1 | 0 | 1 | 3.36 |
| 1977-78 | Vancouver Canucks | NHL | 46 | 0 | 18 | 1 | 4.02 |