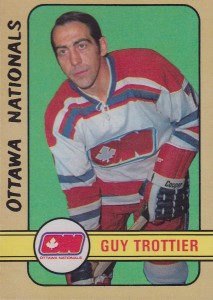 The 1972-73 O-Pee-Chee set consists of 340 hockey cards. The Topps version contains just 176 cards.
Perhaps the greatest feature of the 1972-73 O-Pee-Chee set is the final series of cards from 290 to 341. This is the first acknowledgement of the World Hockey Association on cardboard. The highlight of this WHA series is the number 336 card featuring Bobby Hull of the Winnipeg Jets. Also featured is Gerry Cheevers of the Cleveland Crusaders.
There are no hugely significant rookie cards in the NHL section of the set. The highlights include Bobby Orr, Guy Lafleur, Bobby Clarke and Marcel Dionne.
1972-73 O-Pee-Chee NHL Checklist
| | |
| --- | --- |
| Number | Player |
| 1 | Johnny Bucyk |
| 2 | Rene Robert RC |
| 3 | Gary Croteau |
| 4 | Pat Stapleton |
| 5 | Ron Harris |
| 6 | Checklist |
| 7 | Stanley Cup Finals Game 1 |
| 8 | Marcel Dionne |
| 9 | Bob Berry |
| 10 | Lou Nanne |
| 11 | Marc Tardif |
| 12 | Jean Ratelle |
| 13 | Craig Cameron RC |
| 14 | Bobby Clarke |
| 15 | Jim Rutherford RC |
| 16 | Andre Dupont RC |
| 17 | Mike Pelyk |
| 18 | Dunc Wilson |
| 19 | Checklist |
| 20 | Stanley Cup Finals Game 2 |
| 21 | Dallas Smith |
| 22 | Gerry Meehan |
| 23 | Rick Smith |
| 24 | Hubert "Pit" Martin |
| 25 | Keith McCreary |
| 26 | Alex Delvecchio |
| 27 | Gilles Marotte |
| 28 | Lorne "Gump" Worsley |
| 29 | Yvan Cournoyer |
| 30 | NHL Championship Game 3 |
| 31 | Vic Hadfield |
| 32 | Tom Miller RC |
| 33 | Ed Van Impe |
| 34 | Greg Polis |
| 35 | Barclay Plager |
| 36 | Ron Ellis |
| 37 | Jocelyn Guevremont |
| 38 | Stanley Cup Finals Game 4 |
| 39 | Carol Vadnais |
| 40 | Steve Atkinson |
| 41 | Ivan Boldirev RC |
| 42 | Jim Pappin |
| 43 | Phil Myre RC |
| 44 | Yvan Cournoyer [NHL Action] |
| 45 | Nick Libett |
| 46 | Juha Widing |
| 47 | Jude Drouin |
| 49 | Ken Hodge |
| 50 | Roger Crozier |
| 51 | Reggie Leach |
| 52 | Dennis Hull |
| 53 | Larry Hale RC |
| 54 | Stanley Cup Finals Game 5 |
| 55 | Tim Ecclestone |
| 56 | Robert "Butch" Goring |
| 57 | Danny Grant |
| 58 | Bobby Orr [NHL Action] |
| 59 | Guy Lafleur |
| 60 | Jim Neilson |
| 61 | Brian Spencer |
| 62 | Joe Watson |
| 63 | Stanley Cup Finals Game 6 |
| 64 | Jean Pronovost |
| 65 | Frank St. Marseille |
| 66 | Bob Baun |
| 67 | Poul Popiel |
| 68 | Wayne Cashman |
| 69 | Tracy Pratt |
| 70 | Stan Gilbertson |
| 71 | Keith Magnuson |
| 72 | Ernie Hicke |
| 73 | Gary Doak |
| 74 | Mike Corrigan |
| 75 | Doug Mohns |
| 76 | Phil Esposito [NHL Action] |
| 77 | Jacques Lemaire |
| 78 | Pete Stemkowski |
| 79 | Bill Mikkelson RC |
| 80 | Rick Foley RC |
| 81 | Ron Schock |
| 82 | Phil Roberto |
| 83 | Jim McKenny |
| 84 | Wayne Maki |
| 86 | Guy Lapointe |
| 87 | Bill Fairbairn |
| 88 | Terry Crisp |
| 89 | Doug Favell |
| 90 | Bryan Watson |
| 91 | Gary Sabourin |
| 92 | Jacques Plante |
| 93 | Andre Boudrias |
| 94 | Mike Walton |
| 95 | Don Luce |
| 96 | Joey Johnston |
| 97 | Doug Jarrett |
| 98 | Bill MacMillan RC |
| 99 | Mickey Redmond |
| 100 | Rogatien Vachon |
| 101 | Barry Gibbs RC |
| 102 | Frank Mahovlich |
| 103 | Bruce MacGregor |
| 104 | Ed Westfall |
| 105 | Rick MacLeish |
| 106 | Nick Harbaruk |
| 107 | Jack Egers RC |
| 108 | Dave Keon |
| 109 | Barry Wilkins |
| 110 | Walt Tkaczuk [NHL Action] |
| 111 | Phil Esposito |
| 112 | Gilles Meloche RC |
| 113 | Gary Edwards |
| 114 | Brad Park |
| 115 | Syl Apps |
| 116 | Jim Lorentz |
| 117 | Gary Smith |
| 118 | Ted Harris |
| 119 | Gerry Desjardins |
| 120 | Garry Unger |
| 121 | Dale Tallon |
| 122 | Bill Plager RC |
| 123 | Gordon "Red" Berenson |
| 124 | Pete Mahovlich |
| 125 | Simon Nolet |
| 126 | Paul Henderson |
| 127 | Hart Trophy |
| 128 | Frank Mahovlich [NHL Action] |
| 129 | Bobby Orr |
| 130 | Bert Marshall |
| 131 | Ralph Backstrom |
| 132 | Gilles Villemure |
| 133 | Dave Burrows RC |
| 134 | Calder Trophy |
| 135 | Dallas Smith [NHL Action] |
| 136 | Gilbert Perreault |
| 137 | Tony Esposito |
| 138 | Cesare Maniago |
| 139 | Gerry Hart RC |
| 140 | Jacques Caron RC |
| 141 | Orland Kurtenbach |
| 142 | Norris Trophy |
| 143 | Lew Morrison |
| 144 | Arnie Brown |
| 145 | Ken Dryden |
| 146 | Gary Dornhoefer |
| 147 | Norm Ullman |
| 148 | Art Ross Trophy Winners |
| 149 | Orland Kurtenbach [NHL Action] |
| 150 | Fred Stanfield |
| 151 | Dick Redmond |
| 152 | Serge Bernier |
| 153 | Rod Gilbert |
| 154 | Duane Rupp |
| 155 | Vezina Trophy Winners |
| 156 | Stan Mikita [NHL Action] |
| 157 | Rick Martin |
| 158 | Bill White |
| 159 | Bill Goldsworthy |
| 160 | Jack Lynch RC |
| 161 | Bob Plager |
| 162 | Dave Balon |
| 163 | Noel Price |
| 164 | Gary Bergman |
| 165 | Pierre Bouchard |
| 166 | Ross Lonsberry |
| 167 | Denis Dupere |
| 168 | Lady Byng Trophy |
| 169 | Ken Hodge [NHL Action] |
| 170 | Don Awrey |
| 171 | Marshall Johnston RC |
| 172 | Terry Harper |
| 173 | Ed Giacomin |
| 174 | Bryan Hextall |
| 175 | Conn Smythe Trophy |
| 176 | Larry Hillman |
| 177 | Stan Mikita |
| 178 | Charlie Burns |
| 179 | Brian Marchinko RC |
| 180 | Noel Picard |
| 181 | Bobby Schmautz RC |
| 182 | Rick Martin [NHL Action] |
| 183 | Pat Quinn |
| 184 | Denis DeJordy |
| 185 | Serge Savard |
| 186 | Eddie Shack [NHL Action] |
| 187 | Bill Flett |
| 188 | Darryl Sittler |
| 189 | Lorne "Gump" Worsley [NHL Action] |
| 190 | Checklist |
| 191 | Garnet "Ace" Bailey |
| 192 | Walt McKechnie |
| 193 | Harry Howell |
| 194 | Rod Seiling |
| 195 | Darryl Edestrand |
| 196 | Tony Esposito [NHL Action] |
| 197 | Tim Horton |
| 198 | Ron "Chico" Maki |
| 199 | Jean-Paul Parise |
| 200 | Germain Gagnon RC |
| 201 | Danny O'Shea |
| 202 | Richard Lemieux RC |
| 203 | Dan Bouchard RC |
| 204 | Leon Rochefort |
| 205 | Jacques Laperriere |
| 206 | Barry Ashbee |
| 207 | Garry Monahan |
| 208 | *** Not Issued *** |
| 209 | Dave Keon [NHL Action] |
| 210 | Rejean Houle |
| 211 | Dave Hudson RC |
| 212 | Ted Irvine |
| 213 | Don Saleski RC |
| 214 | Lowell MacDonald |
| 215 | Mike Murphy RC |
| 216 | Brian Glennie |
| 217 | Bobby Lalonde RC |
| 218 | Bob Leiter |
| 219 | Don Marcotte |
| 220 | Jim Schoenfeld RC |
| 221 | Craig Patrick |
| 222 | Cliff Koroll |
| 223 | Guy Charron RC |
| 224 | Jim Peters |
| 225 | Dennis Hextall |
| 226 | Tony Esposito [First Team All-Star] |
| 227 | Brad Park [First Team All-Star] |
| 228 | Bobby Hull [First Team All-Star] |
| 229 | Rod Gilbert [First Team All-Star] |
| 230 | Phil Esposito [First Team All-Star] |
| 231 | Claude Larose |
| 232 | Jim Mair RC |
| 233 | Bobby Rousseau |
| 234 | Brent Hughes |
| 235 | Al McDonough |
| 236 | Chris Evans RC |
| 237 | Pierre Jarry RC |
| 238 | Don Tannahill RC |
| 239 | Rey Comeau RC |
| 240 | Gregg Sheppard RC |
| 241 | Dave Dryden |
| 242 | Ted McAneeley RC |
| 243 | Lou Angotti |
| 244 | Len Fontaine RC |
| 245 | Bill Lesuk RC |
| 246 | Fred "Buster" Harvey RC |
| 247 | Ken Dryden [Second Team All-Star] |
| 248 | Bill White [Second Team All-Star] |
| 249 | Pat Stapleton [Second Team All-Star] |
| 250 | NHL All-Stars |
| 251 | Henri Richard |
| 252 | Bryan Lefley RC |
| 253 | Stanley Cup Trophy |
| 254 | Steve Vickers RC |
| 255 | Wayne Hillman |
| 256 | Ken Schinkel |
| 257 | Kevin O'Shea RC |
| 258 | Ron Low RC |
| 259 | Don Lever RC |
| 260 | Randy Manery RC |
| 261 | Ed Johnston |
| 262 | Craig Ramsay RC |
| 263 | Pete Laframboise RC |
| 264 | Dan Maloney RC |
| 265 | Bill Collins |
| 266 | Paul Curtis |
| 267 | Bob Nevin |
| 268 | Gary Dornhoefer [Penalty Leaders] |
| 269 | Jim Roberts |
| 270 | Brian Lavender RC |
| 271 | Dale Rolfe |
| 272 | NHL Goal Leaders |
| 273 | Michel Belhumeur RC |
| 274 | Eddie Shack |
| 275 | Wayne Stephenson RC |
| 276 | Boston Bruins [Stanley Cup Winners] |
| 277 | Rick Kehoe |
| 278 | Gerry O'Flaherty RC |
| 279 | Jacques Richard RC |
| 280 | NHL Scoring Leaders |
| 281 | Nick Beverley RC |
| 282 | Larry Carriere RC |
| 283 | NHL Assists Leaders |
| 284 | Rick Smith |
| 285 | Jerry Korab RC |
| 286 | Lorne "Gump" Worsley [Goals Against Average] |
| 287 | Ron Stackhouse |
| 288 | Barry Long RC |
| 289 | Dean Prentice |
| 290 | Norm Beaudin |
| 291 | Mike Amodeo RC |
| 292 | Jim Harrison |
| 293 | J.C. Tremblay |
| 294 | Murray Hall |
| 295 | Bart Crashley |
| 296 | Wayne Connelly |
| 297 | Bobby Sheehan |
| 298 | Ron Anderson RC |
| 299 | Chris Bordeleau |
| 300 | Les Binkley |
| 301 | Ron Walters RC |
| 302 | Jean-Guy Gendron |
| 303 | Gord Labossiere |
| 304 | Gerry Odrowski |
| 305 | Mike McMahon |
| 306 | Gary Kurt |
| 307 | Larry Cahan |
| 308 | Wally Boyer |
| 309 | Bob Charlebois RC |
| 310 | Bob Falkenberg |
| 311 | Jean Payette RC |
| 312 | Ted Taylor |
| 313 | Joe Szura |
| 314 | George Morrison |
| 315 | Wayne Rivers |
| 316 | Reg Fleming |
| 317 | Larry Hornung RC |
| 318 | Ron Climie RC |
| 319 | Val Fonteyne |
| 320 | Michel Archambault RC |
| 321 | Ab McDonald |
| 322 | Bob Leduc RC |
| 323 | Bob Wall |
| 324 | Alain Caron RC |
| 325 | Bob Woytowich |
| 326 | Guy Trottier |
| 327 | Bill Hicke |
| 328 | Guy Dufour RC |
| 329 | Wayne Rutledge RC |
| 330 | Gary Veneruzzo |
| 331 | Fred Speck RC |
| 332 | Ron Ward RC |
| 333 | Rosaire Paiement |
| 334 | Checklist |
| 335 | Michel Parizeau RC |
| 336 | Bobby Hull |
| 337 | Wayne Carleton |
| 338 | John McKenzie |
| 339 | Jim Dorey |
| 340 | Gerry Cheevers |
| 341 | Gerry Pinder |
| 48A | Jean Ratelle [NHL Action] |
| 48B | Jean Ratelle [NHL Action] |
| 85A | Brad Park [NHL Action] |
| 85B | Brad Park [NHL Action] |