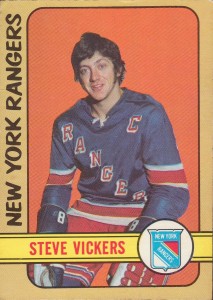 Calder Trophy winner, first NHL player to score a hat trick in consecutive games and holder of the New York Rangers record for most points in a single game. Steve Vickers had a relatively short NHL career but he certainly made an impact.
Steve Vickers – Junior and Minor Pro
Vickers played two years in the OHL (OMJHL), 1969-70 and 1970-71 with the Toronto Marlboros. In his second season, Steve totaled 107 points on 43 goals and 64 assists while playing the full 62 game regular season schedule.
He was one of four Marlies that year to top the 100 point plateau. Vickers finished third in team scoring behind Dave Gardner and Steve Shutt. He was tenth in the league for goals, eighth for assists and seventh in the race for the Eddie Powers Trophy.
After finishing fifth in the ten team league, the Marlboros reached the semi-finals before being dropped by the Ottawa 67's. Steve was named a First Team All-Star left winger. As a side note, one of his teammates was the infamous Steve Durbano. Durbano sat 324 penalty minutes in just 49 games.
His only full minor league season came in 1971-72, his first pro season. With the Omaha Knights of the Central Hockey League, Vickers put up 36 goals and assisted on 23 for 59 points over 70 games. Steve led the team in goal scoring. He was fourth in goal scoring, five behind a trio tied for the lead that included J.P. Bordeleau, Ross Perkins and Gregg Sheppard.
The Knights finished fifth in the six team Central Hockey League and out of post season contention. According to his 1975-76 O-Pee-Chee number 19 hockey card, Steve tied a CHL record with five goals in a single game.
Steve's only other venture into the minors came in his final season, 1981-82. He split his year between the New York Rangers and the Springfield Indians of the American Hockey League. Vickers played a lifetime total of 20 games in the AHL.

Steve Vickers – NHL
Between 1972-73 and 1981-82, Vickers played 698 regular season National Hockey League games, all with the New York Rangers. In 68 Stanley Cup playoff games, he added 24 goals and 49 points.
---

Steve Vickers Collection





---
The Rangers selected Steve tenth overall at the 1971 NHL Amateur Draft. After his year in Omaha, Vickers came through with an oustanding rookie season in 1972-73. Despite missing 17 games due to a knee injury, Steve scored 30 and assisted on 23 for 53 points over 61 games. It was good enough to be named the recipient of the Calder Memorial Trophy as the NHL's top first year player.
In 1974-75, Vickers finished ninth in the NHL with 41 goals. 16 of those goals were on the power play, placing him fourth in the NHL for that category. He was named a Second Team All-Star left winger, behind Rick Martin of the Buffalo Sabres. The following year, Steve set the Rangers record for points in a game with seven against the Washington Capitals on February 16, 1976. In the game, he scored three and assisted on four.
The closest he came to a Stanley Cup championship was in 1978-79. The Rangers reached the finals but fell in five games to the Montreal Canadiens. In 1979-80, with his career nearing its end, Steve had a NYR record 29.8 shooting percentage. In fact, his 19.28 career shooting percentage still places him eleventh all-time for NHL players with over 800 shots.
He set one last Rangers record in that 1979-80 season. In a playoff game against the Atlanta Flames on April 8, 1980, Vickers scored a goal 33 seconds into overtime. That remains as the fastest overtime goal in New York Rangers history.

Steve Vickers – Rookie Card
The Steve Vickers rookie card appears as number 254 in the 1972-73 O-Pee-Chee set. The card shows him with the Rangers and is valued at twice that of a common card. His first Topps card didn't appear until 1973-74. His final card is included in both the 1980-81 O-Pee-Chee and Topps sets.
His 1974-75 O-Pee-Chee number 29 card contains an error. On the back, it claims he's the first to score hat tricks in three consecutive games. He did not score in three consecutive but just two. He was, however, the first to accomplish that feat. The NHL record is hat tricks in three straight games. That record belongs to Joe Malone who did it twice during the 1917-18 season and Mike Bossy who did it with the Islanders in 1980-81.
Although Vic Hadfield was New York's captain at the time, both Steve's 1972-73 and 1973-74 O-Pee-Chee hockey cards show him with a 'C' on his jersey.

Steve Vickers Career Stats
| | | | | | | | |
| --- | --- | --- | --- | --- | --- | --- | --- |
| Season | Team | Lge | GP | G | A | Pts | PIM |
| 1969-70 | Toronto Marlboros | OHA | 52 | 28 | 38 | 66 | 23 |
| 1970-71 | Toronto Marlboros | OHA | 62 | 43 | 64 | 107 | 51 |
| 1971-72 | Omaha Knights | CHL | 70 | 36 | 23 | 59 | 45 |
| 1972-73 | New York Rangers | NHL | 61 | 30 | 23 | 53 | 37 |
| 1973-74 | New York Rangers | NHL | 75 | 34 | 24 | 58 | 18 |
| 1974-75 | New York Rangers | NHL | 80 | 41 | 48 | 89 | 64 |
| 1975-76 | New York Rangers | NHL | 80 | 30 | 53 | 83 | 40 |
| 1976-77 | New York Rangers | NHL | 75 | 22 | 31 | 53 | 26 |
| 1977-78 | New York Rangers | NHL | 79 | 19 | 44 | 63 | 30 |
| 1978-79 | New York Rangers | NHL | 66 | 13 | 34 | 47 | 24 |
| 1979-80 | New York Rangers | NHL | 75 | 29 | 33 | 62 | 38 |
| 1980-81 | New York Rangers | NHL | 73 | 19 | 39 | 58 | 40 |
| 1981-82 | Springfield Indians | AHL | 20 | 4 | 6 | 10 | 14 |
| 1981-82 | New York Rangers | NHL | 34 | 9 | 11 | 20 | 13 |
| | NHL Totals | | 698 | 246 | 340 | 586 | 330 |