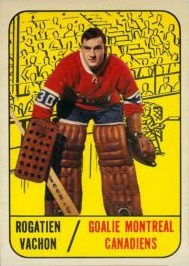 Update – Finally, finally, finally! Rogie was inducted to the Hockey Hall of Fame in 2016!
Rogatien 'Rogie' Vachon is, hands down, the greatest goaltender to ever wear a Los Angeles Kings jersey. Well, Jonathan Quick might have something to say about that. Rogie played for the Kings from 1971-72 to 1977-78. In that time, his total games played, minutes played, wins, losses, ties and shutouts still stand as all-time Kings records. He set two single season team records that still stand today: most shutouts (8 in 1976-77) and lowest GAA (2.24 in 1974-75). As a King, he appeared in three NHL all-star games.
In 1976, Rogie played in all of Team Canada's games at the Canada Cup. He finished the tournament with a record of 6 wins and a loss. Two of the wins were shutouts and his final goals against average was 1.39. Of course, Canada won the gold medal with Vachon as the backbone of the team.
Rogie Vachon finished his NHL playing career with short stints with the Detroit Red Wings and Boston Bruins after leaving the Los Angeles Kings. His final regular season totals included 51 shutouts and a 2.99 GAA. The 51 shutouts still has Vachon tied for 21st on the NHL all-time list.
Rogie went on to serve as the General Manager of the Kings from 1983 to 1992. In 1985, his number 30 was added to the honour roll of Los Angeles Kings retired numbers.
Yet…
Rogie Vachon is not in the Hockey Hall of Fame!
---
Rogie Vachon Collection








---
The Rogatien Vachon rookie card comes in the form of a 1967-68 Topps number 75. The card is valued by Beckett Hockey Monthly
at a high of $80. Of the rookie card class of the 1967-68 Topps series, two cards valued less than Vachon's belong to current members of the Hockey Hall of Fame. Jacques Lemaire was inducted into the Hall of Fame in 1984, yet his rookie card is valued at $20 less than Vachon's. Glen Sather was inducted in 1997 (albeit as a builder) and his rookie card is worth less than half of Rogie's. By the way – the top rookie card from the 1967-68 Topps series? Derek Sanderson.
I put Rogie in the same class as Tony Esposito and Gerry Cheevers from the same era. Both of these greats are in the Hockey Hall of Fame. Vachon should be too.