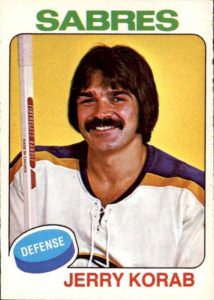 Never a Stanley Cup champion and just 25 regular season games shy of 1000, yet Jerry Korab is certainly a player Buffalo Sabres fans remember. King Kong spent much of his National Hockey League career with the Sabres, although also appearing with the Chicago Blackhawks, Vancouver Canucks and Los Angeles Kings.
In junior and minor pro, before his NHL career took off, Jerry was a popular visitor to the penalty box. However, with the Sabres, the toughness remained, just a lot more disciplined, and his offensive side shone through from the blue line.
Jerry Korab – Junior and Minor Pro
Jerry Korab played his major junior hockey not far from Buffalo, New York, in St. Catharines, Ontario with the Black Hawks. He spent two seasons with the Chicago Blackhawks sponsored team, 1966-67 and 1967-68. In his second season, Korab finished third in the league with 224 penalty minutes.
His first year of pro hockey, 1968-69, was spent in the IHL with the Port Huron Flags. Jerry put up outstanding offensive numbers for any rookie, let alone a defenseman. In 71 games, he scored 18 goals and assisted on 46 for 64 points. His 284 PIM placed him second in the IHL, nine behind Lynn Margarit of the Muskegon Mohawks.
Korab spent all of 1969-70 in the WHL with the Portland Buckaroos. He played another 20 games with that club in 1970-71 before his call-up to the NHL Blackhawks. That was the last he'd play in the minors until late in his career.
He would return to the minors again briefly at the end of his career, playing four games in 1983-84 and three games in 1984-85 in the American Hockey League with the Rochester Americans.

Jerry Korab – NHL
Jerry Korab played in 975 regular season National Hockey League games between 1970-71 and 1984-85 with the Chicago Blackhawks, Vancouver Canucks, Buffalo Sabres and Los Angeles Kings. Over that time, he scored 114 and assisted on 341 for 455 points. In 93 Stanley Cup playoff games, he added 26 points.
---
Jerry Korab Collection






---
In his first season, Korab appeared in 46 games with Chicago. Despite just playing a bit over half the games, he nearly cracked the top ten in the NHL with 152 penalty minutes. He played in his first Stanley Cup finals with Chicago losing to the Montreal Canadiens.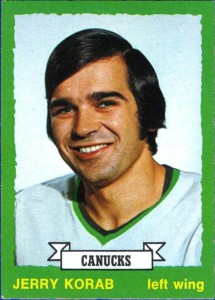 Jerry would return to the finals in 1972-73 for a rematch between Chicago and Montreal with the same result. In 1974-75, he helped the young Buffalo Sabres to a finals appearance before losing out to the Philadelphia Flyers. That 1974-75 season was a career year for Korab, finishing with 44 assists and 56 points. He also returned to his bad boy ways, tying teammate Jim Schoenfeld for eighth in the NHL, both with 184 PIM.
Korab came to Buffalo by way of Vancouver. The Blackhawks traded him to the Canucks on May 14, 1973 with goaltender Gary Smith for defenseman Dale Tallon. Vancouver didn't hold on to him long, trading him to Buffalo on Decembe 27, 1973 for John Gould and Tracy Pratt.
On March 10, 1980, Jerry was sent to the Los Angeles Kings, in exchange for a first round pick at the 1982 NHL Entry Draft. That pick turned out to be Phil Housley. Korab returned to the Sabres as a free agent for parts of the 1983-84 and 1984-85 seasons before retiring.

Jerry Korab – Rookie Card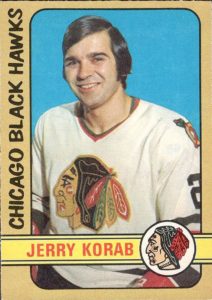 The Jerry Korab rookie card appears as number 285 in the 1972-73 O-Pee-Chee NHL hockey card set and he is shown with the Chicago Blackhawks. His final card is included in the 1981-82 O-Pee-Chee set as a member of the Los Angeles Kings.
In 1973-74, OPC featured him in his only card with the Vancouver Canucks. In 1980-81, the hockey card company showed him still wearing a Buffalo Sabres jersey despite having been traded to the Kings midway through the previous season. They note this with "Now With Kings" on the front of the card.
Several times, his cards note his nickname, 'King Kong'. In an act of laziness, O-Pee-Chee uses the same Korab picture on both the 1975-76 and 1976-77 cards.

Jerry Korab Career Stats
| | | | | | | | |
| --- | --- | --- | --- | --- | --- | --- | --- |
| Season | Team | Lge | GP | G | A | Pts | PIM |
| 1966-67 | St. Catharines Black Hawks | OHA | 43 | 3 | 10 | 13 | 57 |
| 1967-68 | St. Catharines Black Hawks | OHA | 54 | 10 | 34 | 44 | 224 |
| 1968-69 | Port Huron Flags | IHL | 71 | 18 | 46 | 64 | 284 |
| 1969-70 | Portland Buckaroos | WHL | 65 | 9 | 12 | 21 | 169 |
| 1970-71 | Portland Buckaroos | WHL | 20 | 3 | 5 | 8 | 78 |
| 1970-71 | Chicago Blackhawks | NHL | 46 | 4 | 14 | 18 | 152 |
| 1971-72 | Chicago Blackhawks | NHL | 73 | 9 | 5 | 14 | 95 |
| 1972-73 | Chicago Blackhawks | NHL | 77 | 12 | 15 | 27 | 94 |
| 1973-74 | Buffalo Sabres | NHL | 45 | 6 | 12 | 18 | 73 |
| 1973-74 | Vancouver Canucks | NHL | 31 | 4 | 7 | 11 | 64 |
| 1974-75 | Buffalo Sabres | NHL | 79 | 12 | 44 | 56 | 184 |
| 1975-76 | Buffalo Sabres | NHL | 65 | 13 | 28 | 41 | 85 |
| 1976-77 | Buffalo Sabres | NHL | 77 | 14 | 33 | 47 | 120 |
| 1977-78 | Buffalo Sabres | NHL | 77 | 7 | 34 | 41 | 119 |
| 1978-79 | Buffalo Sabres | NHL | 78 | 11 | 40 | 51 | 104 |
| 1979-80 | Buffalo Sabres | NHL | 43 | 1 | 10 | 11 | 74 |
| 1979-80 | Los Angeles Kings | NHL | 11 | 1 | 2 | 3 | 34 |
| 1980-81 | Los Angeles Kings | NHL | 78 | 9 | 43 | 52 | 139 |
| 1981-82 | Los Angeles Kings | NHL | 50 | 5 | 13 | 18 | 91 |
| 1982-83 | Los Angeles Kings | NHL | 72 | 3 | 26 | 29 | 90 |
| 1983-84 | Rochester Americans | AHL | 4 | 0 | 4 | 4 | 2 |
| 1983-84 | Buffalo Sabres | NHL | 48 | 2 | 9 | 11 | 82 |
| 1984-85 | Rochester Americans | AHL | 3 | 1 | 2 | 3 | 6 |
| 1984-85 | Buffalo Sabres | NHL | 25 | 1 | 6 | 7 | 29 |
| | NHL Totals | | 975 | 114 | 341 | 455 | 1629 |