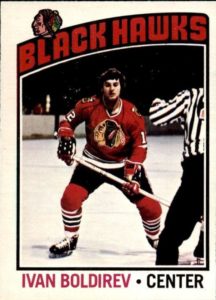 Well, he might have been born in Zrenjanin Yugoslavia (Serbia) but Ivan Boldirev moved to Canada at the age of two. Really, he's a product of Sault Ste. Marie, Ontario. Wherever he calls home, Boldirev put in a great National Hockey League career and is one of the players in the 'honourable mention' category for the Hockey Hall of Fame (if such a thing existed).
Though he played just 48 playoff games over his career, compared to his 1,052 in the regular season, Ivan's name found its way onto the Stanley Cup. Property of the Boston Bruins in 1969-70, he didn't play a single game for the Bruins. However, he was on the roster for the playoffs and got his name on the Cup when the Bruins won the title.
Ivan Boldirev – Junior and Minor Pro
Ivan Boldirev played two years of major junior hockey with the Oshawa Generals in 1967-68 and 1968-69. It was the post Bobby Orr down time for the team and they weren't overly successful. In Ivan's first year, he scored 18 goals as a rookie, teamed with Dale Tallon and Dunc Wilson. In his second year, his goal total improve to 25. Future Boston Bruin Terry O'Reilly was also on that 1968-69 Generals squad.
In his first two years of pro hockey, 1969-70 and 1970-71, Boldirev played in Boston's farm system with the Oklahoma City Blazers of the Central Hockey League. Over that time, he also saw his first NHL action, appearing in two games with Boston in 1970-71.
With the 1969-70 Blazers, Ivan was team leader with 49 assists and 67 points. He was teamed with future NHLers Tom Webster, Gregg Sheppard and Nick Beverley. His assist total tied him for second in the CHL with Danny Seguin of the Iowa Stars, four behind the leader. He also placed tenth in points.
In 1970-71, his numbers improved to 19 goals and 52 assists for 71 points in 68 games with Oklahoma City. Others on the roster included Gregg Sheppard, Dick Cherry, Reggie Leach, Rick MacLeish and Ron Plumb. Boldirev once again finished second for assists, six behind the leaer. His point total tied him for seventh with Mike Murphy of the Omaha Knights.

Ivan Boldirev – NHL
Between 1970-71 and 1984-85, Ivan Boldirev played in 1,052 regular season National Hockey League games with the Boston Bruins, California Golden Seals, Chicago Blackhawks, Atlanta Flames, Vancouver Canucks and Detroit Red Wings. Over that time, he scored 361 and assisted on 505 for 866 points. In the playoffs, he added 33 points in 48 games.
---
Ivan Boldirev Collection






---
Originally a first round pick by the Bruins, eleventh overall, in 1969, Ivan was a 20 goal scorer ten times over his career and topped the 30 goal plateau five times. Two of those 30 goal seasons came in years when he was traded midseason. Boldirev topped out with 35 goals, on three occasions. He accomplished the feat in 1977-78 with Chicago, in 1978-79 with the Blackhawks and Atlanta and in 1983-84 with the Red Wings.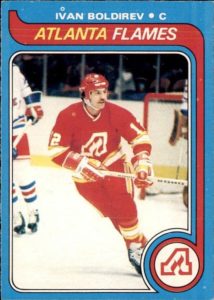 In fact, that 1983-84 season with Detroit proved to be a career year, individually. His 35 goals, 48 assists and 83 points were all career highs for Boldirev. A swan song with his career ended after the following season.
Along with his 'sort of' Stanley Cup win with the Bruins in 1969-70, Boldirev would reach the finals just one more time during his career. Playing with the Vancouver Canucks in 1981-82, he helped the team to the finals before they were bounced by the powerful New York Islanders.
Often traded, Ivan was usually included with well known players when he was dealt. On November 17, 1971, he was shipped from the Bruins to the Golden Seals for Richard Leduc and Chris Oddleifson. It was the trade that truly launched his NHL career with the chance to star on the lowly Seals.
California traded Boldirev on May 23, 1974 to the Blackhawks for Mike Christie and Len Frig. Chicago offloaded him to Atlanta in a blockbuster deal on March 13, 1979. Ivan went to the Flames with Darcy Rota and Phil Russell with Greg Fox, Tom Lysiak, Harold Phillipoff, Pat Ribble and Miles Zaharko going in the other direction.
On February 8, 1980, Boldirev was sent from the Flames to the Canucks with Darcy Rota for Don Lever and Brad Smith. Finally, he was shipped by Vancouver to Detroit for Mark Kirton on January 17, 1983.

Ivan Boldirev – Rookie Card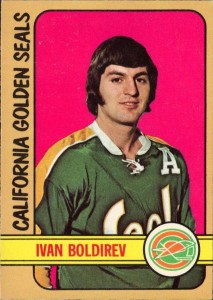 The Ivan Boldirev rookie card appears as number 41 in the 1972-73 O-Pee-Chee NHL hockey card set. He is shown on that card as a member of the California Golden Seals. Boldirev's final card is included in the 1985-86 O-Pee-Chee set. Despite ending his career at the end of 1984-85, that 1985-86 card makes no mention of his retirement.
Often, on the back of Ivan's hockey cards, they made mention of the fact he was born in Yugoslavia. Also, his stick handling abilities were spotlighted on numerous cards.

Ivan Boldirev Career Stats
| | | | | | | | |
| --- | --- | --- | --- | --- | --- | --- | --- |
| Season | Team | Lge | GP | G | A | Pts | PIM |
| 1967-68 | Oshawa Generals | OHL | 50 | 18 | 26 | 44 | 73 |
| 1968-69 | Oshawa Generals | OHL | 54 | 25 | 34 | 59 | 101 |
| 1969-70 | Oklahoma City Blazers | CHL | 65 | 18 | 49 | 67 | 114 |
| 1970-71 | Boston Bruins | NHL | 2 | 0 | 0 | 0 | 0 |
| 1970-71 | Oklahoma City Blazers | CHL | 68 | 19 | 52 | 71 | 98 |
| 1971-72 | Boston Bruins | NHL | 11 | 0 | 2 | 2 | 6 |
| 1971-72 | California Golden Seals | NHL | 57 | 16 | 23 | 39 | 54 |
| 1972-73 | California Golden Seals | NHL | 56 | 11 | 23 | 34 | 58 |
| 1973-74 | California Golden Seals | NHL | 78 | 25 | 31 | 56 | 22 |
| 1974-75 | Chicago Blackhawks | NHL | 80 | 24 | 43 | 67 | 54 |
| 1975-76 | Chicago Blackhawks | NHL | 78 | 28 | 34 | 62 | 33 |
| 1976-77 | Chicago Blackhawks | NHL | 80 | 24 | 38 | 62 | 40 |
| 1977-78 | Chicago Blackhawks | NHL | 80 | 35 | 45 | 80 | 34 |
| 1978-79 | Chicago Blackhawks | NHL | 66 | 29 | 35 | 64 | 25 |
| 1978-79 | Atlanta Flames | NHL | 13 | 6 | 8 | 14 | 6 |
| 1979-80 | Atlanta Flames | NHL | 52 | 16 | 24 | 40 | 20 |
| 1979-80 | Vancouver Canucks | NHL | 27 | 16 | 11 | 27 | 14 |
| 1980-81 | Vancouver Canucks | NHL | 72 | 26 | 33 | 59 | 34 |
| 1981-82 | Vancouver Canucks | NHL | 78 | 33 | 40 | 73 | 45 |
| 1982-83 | Vancouver Canucks | NHL | 39 | 5 | 20 | 25 | 12 |
| 1982-83 | Detroit Red Wings | NHL | 33 | 13 | 17 | 30 | 14 |
| 1983-84 | Detroit Red Wings | NHL | 75 | 35 | 48 | 83 | 20 |
| 1984-85 | Detroit Red Wings | NHL | 75 | 19 | 30 | 49 | 16 |
| | NHL Totals | | 1052 | 361 | 505 | 866 | 507 |