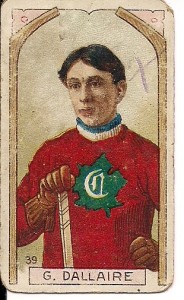 One of the centre pieces of the Louvre Museum in Paris, France is the Mona Lisa. For the first time visitor to the Louvre, the building is overwhelming with gallery after gallery of classic art. When you finally navigate the maze of hallways and large rooms and find your way to where the Mona Lisa hangs, you may be shocked at what you see.
The room which houses the Mona Lisa has large, wall-sized paintings covering most of the wall space. The reason for everyone being in the room, however, is a relatively postage stamp sized painting. Most expect a larger than life painting of this smirking lady and not something that would fit well in a bachelor apartment.
The early 'cigarette cards' can have the same effect. The 1911-12 C55 Imperial Tobacco hockey cards, the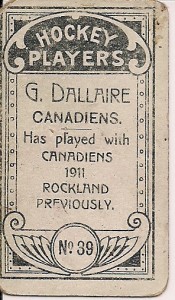 second oldest set recorded by Beckett, measure just 1 and a half inches by 2 and half inches. Yet, these little pieces of very thin cardboard are valued by the aforementioned Beckett Guide at up to $6000 for a single card.
The complete set of 1911-12 Imperial Tobacco C55 hockey cards is valued at $20,000. The set consists of 45 cards, many of which are considered rookie cards. A 'common' card is valued at up to $300. The centrepiece of this series is the #38 card – the rookie card of the great Georges Vezina. The Vezina rookie is valued at $6000 but has been known to sell for much, much more.
In all, there are five cards in the 1911-12 C55 set that are valued at $1000 or more. These cards belong to the legendary names of Joe Malone, Fred 'Cyclone' Taylor, Art Ross, Newsy Lalonde and Vezina.
The card pictured is the #38 of G. Dallaire of the Montreal Canadiens. Better known as Hector or Henri, Dallaire played four years with the Canadiens in the National Hockey Association between 1910-11 and 1913-14. His first season was by far his best with 11 goals in 13 games. It seems Henri was a bit of a ruffian, recording 30 minutes in penalties in those 11 games.
Dallaire scored 23 goals in just 16 games with the Halifax Crescents in 1912-13, a year that he appeared in just one game with the Canadiens. Dallaire died in 1925 at just 38 years old. Amazingly, according to his profile on Wikipedia, Henri/Hector was just 5'0″ and 160 lbs.