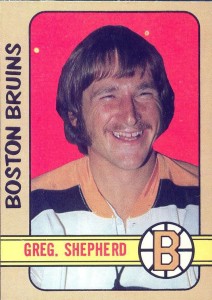 With the star studded Boston Bruins rosters of the 1970's, the great career of Gregg Sheppard goes a bit unnoticed. It doesn't help that a 5'8″ 170 lb. player was trying to be noticed on a team known as the 'Big Bad Bruins'.
Yet, Sheppard was an important cog for a team that went to the Stanley Cup finals three times over his six years in black, yellow and white. Even today, Gregg has his spot in Boston's record books. His seven shorthanded goals during the 1974-75 season have only been topped by one player in team history.
Gregg Sheppard – Junior and Minor Pro
Sheppard played junior hockey with the Estevan Bruins from 1965-66 to 1968-69. In 86 combined games throughout the 1967-68 regular season, WCHL playoffs and the Memorial Cup run, Sheppard put up 60 goals and 64 assists for 124 points.
---
Gregg Sheppard Collection





---
Getting out of the WCHL was tough with the inevitable meeting with the Flin Flon Bombers in the finals. The Bomber were led by Bobby Clarke and Reggie Leach but the Bruins came out on top. Estevan topped the Penticton Vees for the Abbott Cup championship to earn a berth in the Memorial Cup finals. Their winning ways came to an end, losing out to the Niagara Falls Flyers in five games.
The following year, Estevan wasn't nearly successful as a team but Sheppard had an excellent offensive campaign. His 42 goals tied him for fourth in the WCHL with Butch Goring of the Winnipeg Jets. He placed ninth with 42 assists and seventh with 84 points.
1968-69 also brought about his first pro action, appearing in four regular season games with the Oklahoma City Blazers of the Central Hockey League. Starting in 1969-70, Gregg would spend three full seasons with the Blazers before getting his break in the NHL.
In 1970-71, his 50 assists tied him for third in the CHL with Oklahoma City teammate Dick Cherry. His 75 points tied him for fourth in the league with another teammate, Bill Klatt.
1971-72 got him noticed. Sheppard led the CHL with 41 goals, tied with J.P. Bordeleau of the Dallas Blackhawks and Ross Perkins of the Fort Worth Wings. He tied for fifth with 52 assists, equaling Bill Hogaboam of the Omaha Knights. Sheppard's 93 points placed him third, just four points behind the leader. For his efforts, Gregg was named CHL most valuable player.
His minor league career would come to an end eight games into the 1972-73 season. Playing for the Boston Braves of the American Hockey League, Sheppard was called up to the NHL Bruins with vacancies due to injuries and players leaving for the World Hockey Association.

Gregg Sheppard – NHL
Between 1972-73 and 1981-82, Sheppard played 657 regular season games in the National Hockey League. Over that time, he scored 205 goals and assisted on 293 for 498 points with the Boston Bruins and Pittsburgh Penguins. Gregg appeared in an additional 82 Stanley Cup playoff games, contributing 32 goals and 40 assists.
In that 1972-73 rookie season, Sheppard was outstanding for the Bruins with 24 goals and 26 assists over just 64 games. Yet, he was denied the Calder Trophy with honours going to Steve Vickers of the New York Rangers.
As mentioned, Gregg played in three Stanley Cup finals with no rings to show for it. In 1973-74, the Bruins fell to the Philadelphia Flyers, while in 1976-77 and 1977-78, Boston was the victim of the Montreal Canadiens machine.
Three times, from 1974-75 to 1976-77, Sheppard topped the 30 goal plateau. However, it was 1977-78 that should have been his career year. In 54 regular season games, he scored 23 and assisted on 36 for 59 points before a Denis Potvin hit put him out with a knee injury. His pace projected over a full 80 game schedule had him scoring 31 and assisting on 53.
It was his ability to score while on the penalty kill that Boston fans will remember him for the most. In 1974-75, he scored seven shorthanded goals, tying Ed Westfall who scored seven in 1970-71. That would remain a team record until Brian Rolston scored nine in 2001-02. Sheppard's four career shorthanded goals in the Stanley Cup playoffs still ranks him third on the team behind Westfall and Derek Sanderson, both with six.
A three way trade took place on September 6, 1978 that dropped Sheppard in Pittsburgh. Jean Pronovost went from the Pittsburgh Penguins to the Atlanta Flames while Dick Redmond went from Atlanta to the Bruins.
It was ultimately knee injuries that ended Gregg's career. During a Pittsburgh practice, teammate Randy Carlyle landed on Sheppard's knee, doing enough damage to warrant retirement.

Gregg Sheppard – Rookie Card
The Gregg Sheppard rookie card appears as number 241 in the 1972-73 O-Pee-Chee set. The card shows him with the Bruins and is valued as a common card. There are no stats on the back as 1972-73 was his first year in the NHL.
His 1976-77 O-Pee-Chee card refers to him as Boston's 'Mr. Everything' on the back. This title was often placed on the back of Bobby Orr's hockey cards by O-Pee-Chee. The following year, O-Pee-Chee then referred to him as Boston's 'Indispensable Man'. Ironically, after that 1977-78 season, Sheppard obviously became quite dispensable.

Gregg Sheppard Career Stats
| | | | | | | | |
| --- | --- | --- | --- | --- | --- | --- | --- |
| Season | Team | Lge | GP | G | A | Pts | PIM |
| 1965-66 | Estevan Bruins | SJHL | 1 | 1 | 1 | 2 | 0 |
| 1966-67 | Estevan Bruins | CMJHL | 56 | 37 | 31 | 68 | 14 |
| 1967-68 | Estevan Bruins | WCJHL | 58 | 35 | 46 | 81 | 68 |
| 1968-69 | Estevan Bruins | WCHL | 54 | 42 | 42 | 84 | 33 |
| 1968-69 | Oklahoma City Blazers | CHL | 4 | 0 | 0 | 0 | 0 |
| 1969-70 | Salt Lake Golden Eagles | WHL | 5 | 0 | 0 | 0 | 2 |
| 1969-70 | Oklahoma City Blazers | CHL | 65 | 26 | 29 | 55 | 19 |
| 1970-71 | Oklahoma City Blazers | CHL | 68 | 25 | 50 | 75 | 45 |
| 1971-72 | Oklahoma City Blazers | CHL | 72 | 41 | 52 | 93 | 43 |
| 1972-73 | Boston Braves | AHL | 8 | 5 | 5 | 10 | 2 |
| 1972-73 | Boston Bruins | NHL | 64 | 24 | 26 | 50 | 18 |
| 1973-74 | Boston Bruins | NHL | 75 | 16 | 31 | 47 | 21 |
| 1974-75 | Boston Bruins | NHL | 76 | 30 | 48 | 78 | 19 |
| 1975-76 | Boston Bruins | NHL | 70 | 31 | 43 | 74 | 28 |
| 1976-77 | Boston Bruins | NHL | 77 | 31 | 36 | 67 | 20 |
| 1977-78 | Boston Bruins | NHL | 54 | 23 | 36 | 59 | 24 |
| 1978-79 | Pittsburgh Penguins | NHL | 60 | 15 | 22 | 37 | 9 |
| 1979-80 | Pittsburgh Penguins | NHL | 76 | 13 | 24 | 37 | 20 |
| 1980-81 | Pittsburgh Penguins | NHL | 47 | 11 | 17 | 28 | 49 |
| 1981-82 | Pittsburgh Penguins | NHL | 58 | 11 | 10 | 21 | 35 |
| | NHL Totals | | 657 | 205 | 293 | 498 | 243 |