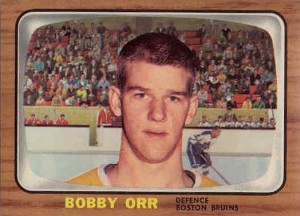 Back when I was a kid in the late 1970's, my grandmother had one hockey card to her name and she used it as a bookmark. I begged her for that card and eventually got it. It was a 1966-67 Topps Gordie Howe. I had no idea of the value. At the time, it probably didn't have all that much of a value. I just knew it was the coolest thing I'd seen – far better than my 1976-77 O-Pee-Chee's that were all over my room. Good old Gordie Howe looking back at me from the television frame on the 1966-67 cardboard.
Why did my grandma have this one hockey card? She claimed that Gordie was her boyfriend (despite her living in Quebec all her life and being a Habs fan). I look back now and wonder, why oh why could she not have had a boyfriend named Bobby Orr?!
The Bobby Orr rookie card is the cornerstone of the 1966-67 Topps series. This hockey card, numbered 35 in the series, completes what can be called the post-war trifecta. The Gordie Howe rookie card from the 1951-52 Parkhurst series, the Bobby Hull rookie card from the 1958-59 Topps series and this Bobby Orr rookie card are all worth up to $3000 according to Beckett Hockey Monthly
. Twice in June, we saw the Bobby Orr rookie card sell on eBay auction
. The going price? $1386 and $1099 for cards that were not mint or nearmint.
Recently crawled out from under a rock and don't know who Bobby Orr is? Well, I don't agree with much that Don Cherry says but we do agree on this: Bobby Orr is arguably the best defenseman to ever play the game of hockey.
Bobby played for the Boston Bruins from 1966-67 to 1975-76. Knee injuries cut his career short. He played two final seasons with the Chicago Black Hawks in 1976-77 and 1978-79. He played just 26 games over the two years with Chicago but was still over a point per game defenseman.
To this day, Orr owns the record for most points in a single season by a defenseman with 139 in 1970-71, most assists in a single season by a
defenseman with 102 in 1970-71 and the highest plus/minus with +124 in 1970-71.
Bobby won the Calder Memorial Trophy in 1966-67 as the league's top first year player. He won the Norris Trophy as the NHL's best defenseman on eight occasions. He is the only defenseman to win the Art Ross Trophy as the league's top scorer, doing it twice, 1969-70 and 1974-75. He won the Hart Memorial Trophy as NHL MVP in three consecutive seasons, 1969-70, 1970-71 and 1971-72. No other NHL player has been the +/- leader six times. Bobby was part of two Stanley Cup winning teams with Boston, 1969-70 and 1971-72, being awarded the Conn Smythe Trophy as playoff MVP both times. Orr was awarded the Lou Marsh Award as Canada's top athlete in 1970 and entered the Hockey Hall of Fame in 1979.
Here are the Bobby Orr cards we followed on eBay in June, 2011(more prices at the eBay hockey card price guide):
| | | | | |
| --- | --- | --- | --- | --- |
| 1966-67 | Topps | 35 | 20-Jun-11 | $1,386.00 |
| 1966-67 | Topps | 35 | 26-Jun-11 | $1,099.99 |
| 1967-68 | Topps | 128 | 11-Jun-11 | $148.58 |
| 1967-68 | Topps | 92 | 16-Jun-11 | $119.16 |
| 1967-68 | Topps | 92 | 09-Jun-11 | $102.00 |
| 1970-71 | O-Pee-Chee | 3 | 20-Jun-11 | $70.00 |
| 1970-71 | O-Pee-Chee | 3 | 01-Jun-11 | $47.00 |
| 1968-69 | O-Pee-Chee | 214 | 21-Jun-11 | $36.00 |
| 1969-70 | O-Pee-Chee | 209 | 07-Jun-11 | $29.29 |
| 1968-69 | O-Pee-Chee | 2 | 21-Jun-11 | $28.77 |
| 1970-71 | Topps | 3 | 11-Jun-11 | $22.50 |
| 1970-71 | O-Pee-Chee | 249 | 11-Jun-11 | $22.01 |
| 1974-75 | Loblaws | | 17-Jun-11 | $14.50 |
| 1975-76 | Topps | 100 | 11-Jun-11 | $13.99 |
| 1973-74 | O-Pee-Chee | 30 | 11-Jun-11 | $12.99 |
| 1973-74 | Topps | 150 | 11-Jun-11 | $8.02 |
| 1972-73 | Topps | 100 | 23-Jun-11 | $7.02 |