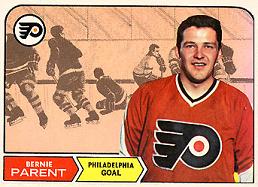 1967-68 brought expansion to the NHL, doubling the league in size from six to twelve teams. In 1973-74, the Philadelphia Flyers became the first of the six expansion teams to win a Stanley Cup. It was a Flyers player that made an initial impact in the vintage hockey cards market.
Despite 1967-68 being the first year of play for the new teams, their players didn't appear on cardboard until 1968-69. The first big impact card featuring a player wearing one of the six new jerseys was Bernie Parent of the Philadelphia Flyers. Despite playing between the pipes for 39 games with the Boston Bruins in 1965-66 and 18 more in the following season, the Bernie Parent rookie card didn't appear until the 1968-69 O-Pee-Chee / Topps series (#89).
---
Bernie Parent Collection







---
In that series, Bobby Orr's is the only hockey card worth more than the Bernie Parent rookie card. Parent is valued at up to $250, according to Beckett Hockey Monthly, whereas Orr's hockey card comes in at $350.
Bernie played his junior hockey with the Niagara Falls Flyers of the Ontario Hockey Association. The Flyers were sponsored by the Boston Bruins and Bernie played with a number of future Bruins in 1964-65 as the Flyers took the Robertson Cup as the OHA champion and the Memorial Cup as the best major junior hockey team in Canada. He was awarded the Dave Pinkney Trophy in both his years with Niagara Falls as the goalie with the lowest goals against average in the league.
As mentioned, Parent played the first two years of his NHL career with the Bruins. He was taken by Philadelphia in the 1967 NHL Expansion Draft. The Flyers traded him to the Toronto Maple Leafs during the 1970-71 season and he was Toronto's main goalie for a year and a half. In 1972-73, he jumped to the World Hockey Association and played a season with the Philadelphia Blazers. He returned to the NHL in 1973-74 with the Broad Street Bullies and remained with the club until an eye injury ended his career during the 1978-79 season.
Bernie Parent's NHL accolades include:
2 Stanley Cups (1973-74 and 1974-75)
2 Conn Smythe Trophies as Stanley Cup playoffs MVP (1973-74 and 1974-75)
2 Vezina Trophies as top goalie (1973-74 and 1974-75)
Bernie's jersey number 1 became the first to be retired by the Philadelphia Flyers. At the season opener in 1979, his number was raised to the rafters of the Spectrum. In 1984, Parent entered the Hockey Hall of Fame.
| | | | | | | | |
| --- | --- | --- | --- | --- | --- | --- | --- |
| Season | Team | Lge | GP | A | PIM | SO | GAA |
| 1965-66 | Oklahoma City Blazers | CPHL | 3 | 0 | 4 | 0 | 3.67 |
| 1965-66 | Boston Bruins | NHL | 39 | 0 | 4 | 1 | 3.69 |
| 1966-67 | Oklahoma City Blazers | CPHL | 14 | 0 | 10 | 4 | 2.70 |
| 1966-67 | Boston Bruins | NHL | 18 | 0 | 2 | 0 | 3.64 |
| 1967-68 | Philadelphia Flyers | NHL | 38 | 1 | 23 | 4 | 2.48 |
| 1968-69 | Philadelphia Flyers | NHL | 58 | 0 | 4 | 1 | 2.69 |
| 1969-70 | Philadelphia Flyers | NHL | 62 | 3 | 14 | 3 | 2.79 |
| 1970-71 | Philadelphia Flyers | NHL | 30 | 2 | 5 | 2 | 2.76 |
| 1970-71 | Toronto Maple Leafs | NHL | 18 | 0 | 0 | 0 | 2.65 |
| 1971-72 | Toronto Maple Leafs | NHL | 47 | 1 | 6 | 3 | 2.56 |
| 1972-73 | Philadelphia Blazers | WHA | 63 | 1 | 36 | 2 | 3.61 |
| 1973-74 | Philadelphia Flyers | NHL | 73 | 3 | 24 | 12 | 1.89 |
| 1974-75 | Philadelphia Flyers | NHL | 68 | 0 | 16 | 12 | 2.03 |
| 1975-76 | Philadelphia Flyers | NHL | 11 | 0 | 2 | 0 | 2.34 |
| 1976-77 | Philadelphia Flyers | NHL | 61 | 0 | 0 | 5 | 2.71 |
| 1977-78 | Philadelphia Flyers | NHL | 49 | 0 | 4 | 7 | 2.22 |
| 1978-79 | Philadelphia Flyers | NHL | 36 | 2 | 8 | 4 | 2.70 |