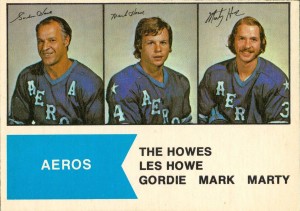 The 1974-75 O-Pee-Chee World Hockey Association set consists of 66 cards. This was the first set by OPC dedicated inclusively to the WHA. The 1972-73 NHL set featured WHA players in the higher numbers. There was also a Quaker Oats set previous to that.
The star card of the 1974-75 WHA set is card number 1 featuring the Howe family. Oddly, this card is the only card in the set of either Gordie, Mark or Marty Howe. The league's centrepiece players did not have individual cards of their own. This card is considered the rookie card for both Mark Howe and Marty Howe. The trio, of course, were with the Houston Aeros.
Because it was a new league with many European players and guys who were lifetime minor leaguers, many of the 66 cards were rookie cards. Significant RCs include Ulf Nilsson and Anders Hedberg of the Winnipeg Jets, Gilles Gratton of the Toronto Toros and Real Cloutier of the Quebec Nordiques.
The most valuable cards in the set, after the Howe card, belong to Gerry Cheevers, Frank Mahovlich, Bobby Hull and Jacques Plante.
1974-75 O-Pee-Chee WHA Hockey Card Checklist