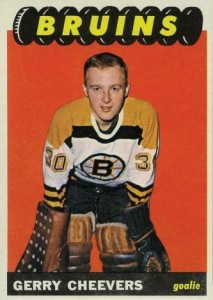 The 1965-66 Topps set consists of 128 hockey cards. In the rookie card department, the set is led in value by the Phil Esposito rookie card. Also significant are the RC's of Gerry Cheevers, Yvan Cournoyer, Ed Giacomin and Paul Henderson.
This set also features a commemorative card honouring Gordie Howe becoming the first National Hockey League to reach the 600 goal plateau. That card is equal to the Esposito rookie card as the two most valuable hockey cards in the 1965-66 Topps set.
Included below is an HD video showing the complete set. Below the video is the complete checklist. Click on any of the names for images of both the front and back of each card.
1965-66 Topps NHL Hockey Card Video
1965-66 Topps NHL Hockey Card Checklist
| | |
| --- | --- |
| Number | Player |
| 1 | Hector "Toe" Blake [Coach] |
| 2 | Lorne "Gump" Worsley |
| 3 | Jacques Laperriere |
| 4 | Jean-Guy Talbot |
| 5 | Ted Harris RC |
| 6 | Jean Beliveau |
| 7 | Dick Duff |
| 8 | Claude Provost |
| 9 | Gordon "Red" Berenson |
| 10 | John Ferguson |
| 11 | George "Punch" Imlach [Coach] |
| 12 | Terry Sawchuk |
| 13 | Bob Baun |
| 14 | Kent Douglas |
| 15 | Leonard "Red" Kelly |
| 16 | Jim Pappin |
| 17 | Dave Keon |
| 18 | Bob Pulford |
| 19 | George Armstrong |
| 20 | Orland Kurtenbach |
| 21 | Ed Giacomin RC |
| 22 | Harry Howell |
| 23 | Rod Seiling |
| 24 | Mike McMahon RC |
| 25 | Jean Ratelle |
| 26 | Doug Robinson |
| 27 | Vic Hadfield |
| 28 | Garry Peters RC |
| 29 | Don Marshall |
| 30 | Bill Hicke |
| 31 | Gerry Cheevers RC  |
| 32 | Leo Boivin |
| 33 | Albert Langlois |
| 34 | Murray Oliver |
| 35 | Tom Williams |
| 36 | Ron Schock RC |
| 37 | Ed Westfall |
| 38 | Gary Dornhoefer |
| 39 | Bob Dillabough |
| 40 | Poul Popiel RC  |
| 41 | Sid Abel [Coach] |
| 42 | Roger Crozier |
| 43 | Doug Barkley |
| 44 | Bill Gadsby |
| 45 | Bryan Watson RC |
| 46 | Bob McCord |
| 47 | Alex Delvecchio |
| 48 | Andy Bathgate |
| 49 | Norm Ullman |
| 50 | Ab McDonald |
| 51 | Paul Henderson RC  |
| 52 | Hubert "Pit" Martin |
| 53 | Billy Harris |
| 54 | Billy Reay [Coach] |
| 55 | Glenn Hall |
| 56 | Pierre Pilote |
| 57 | Al MacNeil |
| 58 | Camille Henry |
| 59 | Bobby Hull |
| 60 | Stan Mikita |
| 61 | Ken Wharram |
| 62 | Bill Hay |
| 63 | Fred Stanfield RC |
| 64 | Dennis Hull RC |
| 65 | Ken Hodge RC |
| 66 | Checklist |
| 67 | Charlie Hodge |
| 68 | Terry Harper |
| 69 | J.C. Tremblay |
| 70 | Bobby Rousseau |
| 71 | Henri Richard |
| 72 | Dave Balon |
| 73 | Ralph Backstrom |
| 74 | Jim Roberts RC |
| 75 | Claude Larose RC |
| 76 | Yvan Cournoyer RC  |
| 77 | Johnny Bower |
| 78 | Carl Brewer |
| 79 | Tim Horton |
| 80 | Marcel Pronovost |
| 81 | Frank Mahovlich |
| 82 | Ron Ellis RC |
| 83 | Larry Jeffrey |
| 84 | Pete Stemkowski RC |
| 85 | Eddie Joyal RC |
| 86 | Mike Walton RC |
| 87 | George "Red" Sullivan |
| 88 | Don Simmons |
| 89 | Jim Neilson |
| 90 | Arnie Brown |
| 91 | Rod Gilbert |
| 92 | Phil Goyette |
| 93 | Bob Nevin |
| 94 | John McKenzie |
| 95 | Ted Taylor RC |
| 96 | Milt Schmidt [Coach] |
| 97 | Ed Johnston |
| 98 | Ted Green |
| 99 | Don Awrey RC |
| 100 | Bob Woytowich RC |
| 101 | Johnny Bucyk |
| 102 | Dean Prentice |
| 103 | Ron Stewart |
| 104 | Reg Fleming |
| 105 | Parker MacDonald |
| 106 | Hank Bassen |
| 107 | Gary Bergman |
| 108 | Gordie Howe |
| 109 | Floyd Smith |
| 110 | Bruce MacGregor |
| 111 | Ron Murphy |
| 112 | Don McKenney |
| 113 | Denis DeJordy |
| 114 | Elmer Vasko |
| 115 | Matt Ravlich RC |
| 116 | Phil Esposito RC |
| 117 | Ron "Chico" Maki |
| 118 | Doug Mohns |
| 119 | Eric Nesterenko |
| 120 | Pat Stapleton |
| 121 | Checklist |
| 122 | Gordie Howe [Highlight (600 Goals)] |
| 123 | Toronto Maple Leafs Team |
| 124 | Chicago Blackhawks Team |
| 125 | Detroit Red Wings Team |
| 126 | Montreal Canadiens Team |
| 127 | New York Rangers Team |
| 128 | Boston Bruins Team |