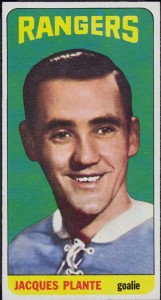 The 1964-65 Topps set consists of 110 hockey cards featuring players from all six National Hockey League teams. These Topps cards are dubbed 'Tall Boys' with the cards measuring 4.5 inches high while retaining the standard 2.5 inch width. The unusual size and the scarcity of cards numbered from 56 to 110 makes this a very valuable set.
The most valuable rookie cards belong to Pit Martin, Gary Dornhoefer and Marcel Paille. Lesser significant rookies are Roger Crozier, Jim Pappin, Lou Angotti and Rod Seiling. The usuals are at the top in value, including Gordie Howe, Bobby Hull, Tim Horton and Stan Mikita.
The 110 cards in the set were a significant increase over 1963-64 when Topps put out just 66 hockey cards. The reason for this is that it was the first year without Parkhurst as a competitor and the NHL was no longer split down the middle between the two companies. Topps, for the first time, had to carry the full load.
1964-65 Topps NHL Hockey Card Video
1964-65 Topps NHL Hockey Card Checklist
| | |
| --- | --- |
| Number | Player |
| 1 | Hubert "Pit" Martin RC |
| 2 | Gilles Tremblay |
| 3 | Terry Harper |
| 4 | John Ferguson |
| 5 | Elmer Vasko |
| 6 | Terry Sawchuk |
| 7 | Bill Hay |
| 8 | Gary Bergman RC |
| 9 | Doug Barkley |
| 10 | Bob McCord |
| 11 | Parker MacDonald |
| 12 | Glenn Hall |
| 13 | Albert Langlois |
| 14 | Camille Henry |
| 15 | Norm Ullman |
| 16 | Ab McDonald |
| 17 | Charlie Hodge |
| 18 | Orland Kurtenbach |
| 19 | Dean Prentice |
| 20 | Bobby Hull |
| 21 | Ed Johnston |
| 22 | Denis DeJordy |
| 23 | Claude Provost |
| 24 | Rod Gilbert |
| 25 | Doug Mohns |
| 26 | Al MacNeil |
| 27 | Billy Harris |
| 28 | Ken Wharram |
| 29 | George "Red" Sullivan |
| 30 | John McKenzie |
| 31 | Stan Mikita |
| 32 | Ted Green |
| 33 | Jean Beliveau |
| 34 | Arnie Brown RC |
| 35 | Reg Fleming |
| 36 | Jim Mikol RC |
| 37 | Dave Balon |
| 38 | Billy Reay [Coach] |
| 39 | Marcel Pronovost |
| 40 | Johnny Bower |
| 41 | Wayne Hillman |
| 42 | Floyd Smith |
| 43 | Hector "Toe" Blake [Coach] |
| 44 | Leonard "Red" Kelly |
| 45 | George "Punch" Imlach [Coach] |
| 46 | Dick Duff |
| 47 | Roger Crozier RC |
| 48 | Henri Richard |
| 49 | Larry Jeffrey |
| 50 | Leo Boivin |
| 51 | Ed Westfall |
| 52 | Jean-Guy Talbot |
| 53 | Jacques Laperriere |
| 54 | Checklist |
| 55 | Checklist |
| 56 | Ron Murphy |
| 57 | Bob Baun |
| 58 | Tom Williams |
| 59 | Pierre Pilote |
| 60 | Bob Pulford |
| 61 | Gordon "Red" Berenson |
| 62 | Vic Hadfield |
| 63 | Bob Leiter |
| 64 | Jim Pappin RC |
| 65 | Earl Ingarfield |
| 66 | Lou Angotti RC  |
| 67 | Rod Seiling RC |
| 68 | Jacques Plante |
| 69 | George Armstrong |
| 70 | Milt Schmidt [Coach] |
| 71 | Eddie Shack |
| 72 | Gary Dornhoefer RC |
| 73 | Ron "Chico" Maki |
| 74 | Gilles Villemure |
| 75 | Carl Brewer |
| 76 | Bruce MacGregor |
| 77 | Bob Nevin |
| 78 | Ralph Backstrom |
| 79 | Murray Oliver |
| 80 | Bobby Rousseau |
| 81 | Don McKenney |
| 82 | Ted Lindsay |
| 83 | Harry Howell |
| 84 | Doug Robinson RC |
| 85 | Frank Mahovlich |
| 86 | Andy Bathgate |
| 87 | Phil Goyette |
| 88 | J.C. Tremblay |
| 89 | Gordie Howe |
| 90 | Murray Balfour |
| 91 | Eric Nesterenko |
| 92 | Marcel Paille RC |
| 93 | Sid Abel [Coach] |
| 94 | Dave Keon |
| 95 | Alex Delvecchio |
| 96 | Bill Gadsby |
| 97 | Don Marshall |
| 98 | Bill Hicke |
| 99 | Ron Stewart |
| 100 | Johnny Bucyk |
| 101 | Tom Johnson |
| 102 | Tim Horton |
| 103 | Jim Neilson |
| 104 | Allan Stanley |
| 105 | Tim Horton [All-Star] |
| 106 | Stan Mikita [All-Star] |
| 107 | Bobby Hull [All-Star] |
| 108 | Ken Wharram [All-Star] |
| 109 | Pierre Pilote [All-Star] |
| 110 | Glenn Hall [All-Star] |