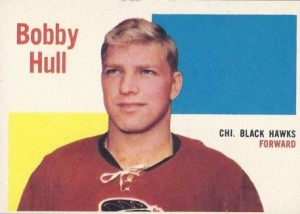 The 1960-61 Topps set consists of 66 hockey cards, 27 of which are 'All-Time Greats'. The ATG cards feature greats of the game that played in the National Hockey League during the first half of century. For several who played when the hockey card market did not exist, the 1960-61 ATG cards are considered their rookie cards.
The highlight of the 1960-61 Topps set is the rookie card of Stan Mikita, superstar with the Chicago Blackhawks and member of the Hockey Hall of Fame. The book value of the card is $400. Equally as valuable is the regular hockey card of Bobby Hull, Mikita's teammate with the Blackhawks. The two cards are far and away more valuable that any other card in the set.
As for the All-time Greats cards, the most valuable belongs to Lester Patrick. Generally, most of the ATG cards are worth several times more than a common card.
1960-61 Topps NHL Checklist