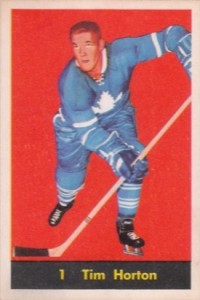 The 1960-61 Parkhurst set consists of 61 hockey cards from players on the Toronto Maple Leafs, Detroit Red Wings and Montreal Canadiens. Topps carried players from the other three teams in the Original 6 National Hockey League, the Boston Bruins, Chicago Black Hawks and New York Rangers.
This was not a huge year for rookie cards. The only significant RC's in the 1960-61 Parkhurst set belong to Murray Oliver and John McKenzie. The set is highlighted by the usual suspects, Gordie Howe, Maurice Richard, Jacques Plante, Terry Sawchuk, Tim Horton and Frank Mahovlich.
A surprisingly valuable card is the number 61 of Jim Morrison. Morrison played just 19 games in the NHL in 1960-61 with the New York Rangers. He would not play in the NHL again until 1969-70 with the Pittsburgh Penguins.

| | |
| --- | --- |
| Number | Player |
| 1 | Tim Horton |
| 2 | Frank Mahovlich |
| 3 | Johnny Bower |
| 4 | Bert Olmstead |
| 5 | Gary "Duke" Edmundson |
| 6 | Ron Stewart |
| 7 | Gerry James |
| 8 | Gerry Ehman |
| 9 | Leonard "Red" Kelly |
| 10 | Dave Creighton |
| 11 | Bob Baun |
| 12 | Dick Duff |
| 13 | Larry Regan |
| 14 | Johnny Wilson |
| 15 | Billy Harris |
| 16 | Allan Stanley |
| 17 | George Armstrong |
| 18 | Carl Brewer |
| 19 | Bob Pulford |
| 20 | Gordie Howe |
| 21 | Val Fonteyne RC |
| 22 | Murray Oliver RC |
| 23 | Sid Abel [Coach] |
| 24 | Jack McIntyre |
| 25 | Marc Reaume |
| 26 | Norm Ullman |
| 27 | Brian Smith RC |
| 28 | Gerry Melnyk RC |
| 29 | Marcel Pronovost |
| 30 | Warren Godfrey |
| 31 | Terry Sawchuk |
| 32 | Barry Cullen |
| 33 | Gary Aldcorn |
| 34 | Pete Goegan |
| 35 | Len Lunde |
| 36 | Alex Delvecchio |
| 37 | John McKenzie RC |
| 38 | Dickie Moore |
| 39 | Albert Langlois |
| 40 | Bill Hicke |
| 41 | Ralph Backstrom |
| 42 | Don Marshall |
| 43 | Bob Turner |
| 44 | Tom Johnson |
| 45 | Maurice "Rocket" Richard |
| 46 | Bernie "Boom-Boom" Geoffrion |
| 47 | Henri Richard |
| 48 | Doug Harvey |
| 49 | Jean Beliveau |
| 50 | Phil Goyette |
| 51 | Marcel Bonin |
| 52 | Jean-Guy Talbot |
| 53 | Jacques Plante |
| 54 | Claude Provost |
| 55 | Andre Pronovost |
| 56 | Hicke-Backstrom-McDonald |
| 57 | Marshall-Richard-Moore |
| 58 | Provost-Goyette-Pronovost |
| 59 | Geoffrion-Beliveau-Marshall |
| 60 | Ab McDonald |
| 61 | Jim Morrison |