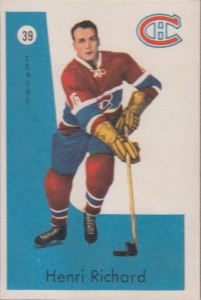 The 1959-60 Parkhurst set consists of 50 hockey cards and represents players from the Montreal Canadiens and Toronto Maple Leafs only. The set is highlighted by Maurice 'Rocket' Richard and Jacques Plante, both of the Canadiens.
The highest valued rookie card belongs to Toronto Maple Leafs defenseman Carl Brewer. Toronto coach Punch Imlach also appears on cardboard for the first time.
Topps covered the rest of the league in 1959-60 with 66 hockey cards of players from the New York Rangers, Chicago Black Hawks, Detroit Red Wings and Boston Bruins. Leading the way in that set were the usual suspects, Bobby Hull and Gordie Howe.

| | |
| --- | --- |
| Number | Player |
| 1 | Canadiens on guard |
| 2 | Maurice "Rocket" Richard |
| 3 | Carl Brewer RC |
| 4 | Phil Goyette |
| 5 | Ed Chadwick |
| 6 | Jean Beliveau |
| 7 | George Armstrong |
| 8 | Doug Harvey |
| 9 | Billy Harris |
| 10 | Tom Johnson |
| 11 | Marc Reaume |
| 12 | Marcel Bonin |
| 13 | Johnny Wilson |
| 14 | Dickie Moore |
| 15 | George "Punch" Imlach RC [Coach/General Manager] |
| 16 | Charlie Hodge |
| 17 | Larry Regan |
| 18 | Claude Provost |
| 19 | Gerry Ehman RC |
| 20 | Ab McDonald |
| 21 | Bob Baun |
| 22 | Ken Reardon [Vice President] |
| 23 | Tim Horton |
| 24 | Frank Mahovlich |
| 25 | Johnny Bower [In Action] |
| 26 | Ron Stewart |
| 27 | Hector "Toe" Blake [Coach] |
| 28 | Bob Pulford |
| 29 | Ralph Backstrom |
| 30 | Action around the net |
| 31 | Bill Hicke RC |
| 32 | Johnny Bower |
| 33 | Bernie Geoffrion |
| 34 | Ted Hampson RC  |
| 35 | Andre Pronovost |
| 36 | Stafford Smythe |
| 37 | Don Marshall |
| 38 | Dick Duff |
| 39 | Henri Richard |
| 40 | Bert Olmstead |
| 41 | Jacques Plante |
| 42 | Noel Price |
| 43 | Bob Turner |
| 44 | Allan Stanley |
| 45 | Albert Langlois |
| 46 | Officials intervene |
| 47 | Frank Selke [General Manager] |
| 48 | Gary "Duke" Edmundson RC |
| 49 | Jean-Guy Talbot |
| 50 | Francis "King" Clancy [Assistant General Manager] |