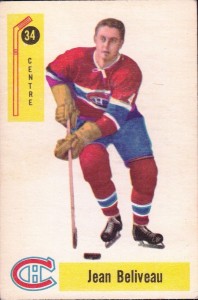 The 1958-59 Parkhurst set consists of 50 hockey cards. The set is made up of players from just the Toronto Maple Leafs and Montreal Canadiens. The other four teams of the Original 6 National Hockey League were covered by Topps.
With both the Canadiens and Maple Leafs being well established, rookie cards were scarce. Montreal was at the end of a five consecutive year run being Stanley Cup champions. The rookie card of Ralph Backstrom of the Habs is one of two significant RCs in the set, along with Bob Nevin of the Maple Leafs.
The most valuable hockey cards in the 1958-59 Parkhurst set belong to Jacques Plante, Maurice Richard, Henri Richard, Frank Mahovlich, Jean Beliveau, Johnny Bower and Tim Horton. The set also featured Toe Blake and Billy Reay, head coaches of the two teams. The set was filled out with several In Action cards.
Uncorrected errors include spelling errors on the Johnny Bower and Allan Stanley cards.

| | |
| --- | --- |
| Number | Player |
| 1 | Bob Pulford [Pulford comes close] |
| 2 | Henri Richard |
| 3 | Andre Pronovost |
| 4 | Billy Harris |
| 5 | Albert Langlois RC |
| 6 | Noel Price RC |
| 7 | Tom Johnson [Armstrong breaks through] |
| 8 | Dickie Moore |
| 9 | Hector "Toe" Blake [Coach] |
| 10 | Tom Johnson |
| 11 | Jacques Plante [An object of interest] |
| 12 | Ed Chadwick |
| 13 | Bob Nevin RC |
| 14 | Ron Stewart |
| 15 | Bob Baun |
| 16 | Ralph Backstrom RC |
| 17 | Charlie Hodge |
| 18 | Gary Aldcorn |
| 19 | Willie Marshall |
| 20 | Marc Reaume |
| 21 | Jacques Plante [All eyes on puck] |
| 22 | Jacques Plante |
| 23 | Allan Stanley |
| 24 | Ian Cushenan RC |
| 25 | Billy Reay [Coach] |
| 26 | Jacques Plante [Plante catches a shot] |
| 27 | Bert Olmstead |
| 28 | Bernie "Boom-Boom" Geoffrion |
| 29 | Dick Duff |
| 30 | Ab McDonald RC |
| 31 | Barry Cullen |
| 32 | Marcel Bonin |
| 33 | Frank Mahovlich |
| 34 | Jean Beliveau |
| 35 | Jacques Plante [Canadiens on guard] |
| 36 | Brian Cullen [Brian Cullen shoots] |
| 37 | Steve Kraftcheck |
| 38 | Maurice "Rocket" Richard |
| 39 | Jacques Plante [Action around the net] |
| 40 | Bob Turner |
| 41 | Jean-Guy Talbot |
| 42 | Tim Horton |
| 43 | Claude Provost |
| 44 | Don Marshall |
| 45 | Bob Pulford |
| 46 | Johnny Bower |
| 47 | Phil Goyette |
| 48 | George Armstrong |
| 49 | Doug Harvey |
| 50 | Brian Cullen |