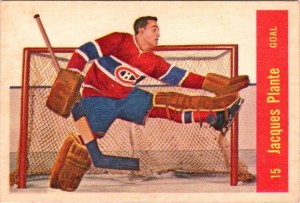 The 1957-58 Parkhurst NHL set consists of 50 hockey cards featuring players from the Montreal Canadiens and Toronto Maple Leafs. It was Parkhurst first set since 1955-56 after both Parkhurst and Topps failed to release a hockey card set for the 1956-57 NHL season.
The two most valuable cards in the 1957-58 Parkhurst set are rookie cards, one from the Canadiens and one from the Maple Leafs. Henri Richard of the Habs leads the way with Frank Mahovlich of the Leafs not far behind. Other significant RC's in the set include Andre Pronovost, Phil Goyette, Claude Provost and Charlie Hodge from Montreal, along with Ed Chadwick, Bob Pulford and Bob Baun from Toronto.
Other high value cards from the set belong to Doug Harvey, Jean Beliveau, Maurice Richard, Jacques Plante and Tim Horton.
1957-58 Parkhurst NHL Hockey Card Checklist
| | |
| --- | --- |
| Number | Player |
| M1 | Doug Harvey |
| M2 | Bernie "Boom-Boom" Geoffrion |
| M3 | Jean Beliveau |
| M4 | Henri Richard RC |
| M5 | Maurice "Rocket" Richard |
| M6 | Tom Johnson |
| M7 | Andre Pronovost RC |
| M8 | Don Marshall |
| M9 | Jean-Guy Talbot |
| M10 | Dollard St. Laurent |
| M11 | Phil Goyette RC |
| M12 | Claude Provost RC |
| M13 | Bob Turner |
| M14 | Dickie Moore |
| M15 | Jacques Plante |
| M16 | Hector "Toe" Blake [Coach] |
| M17 | Charlie Hodge |
| M18 | Marcel Bonin |
| M19 | Bert Olmstead |
| M20 | Floyd Curry |
| M21 | Len Broderick RC [Canadiens on guard] |
| M22 | Brian Cullen [Brian Cullen scores] |
| M23 | Doug Harvey [Puck and sticks high] |
| M24 | Ed Chadwick RC [Geoffrion sidesteps Chadwick] |
| M25 | Ed Chadwick RC [Olmstead beats Chadwick] |
| T1 | George Armstrong |
| T2 | Ed Chadwick RC |
| T3 | Dick Duff |
| T4 | Bob Pulford RC |
| T5 | Tod Sloan |
| T6 | Rudy Migay |
| T7 | Ron Stewart |
| T8 | Gerry James RC |
| T9 | Brian Cullen |
| T10 | Sid Smith |
| T11 | Jim Morrison |
| T12 | Marc Reaume |
| T13 | Hugh Bolton |
| T14 | Pete Conacher |
| T15 | Billy Harris |
| T16 | Mike Nykoluk RC |
| T17 | Frank Mahovlich RC |
| T18 | Ken Girard RC |
| T19 | Al MacNeil RC |
| T20 | Bob Baun RC |
| T21 | Barry Cullen RC |
| T22 | Tim Horton |
| T23 | Gary Collins RC |
| T24 | Gary Aldcorn RC |
| T25 | Billy Reay [Coach] |