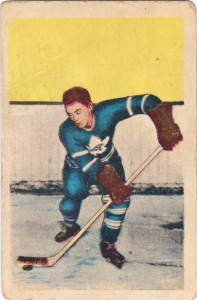 The 1952-53 Parkhurst set consists of 105 hockey cards. As far as rookie cards go, Tim Horton leads the pack as the most valuable. The RC's of Dickie Moore, George Armstrong and Leo Boivin are also quite significant.
Headlining the set are the usual, Maurice Richard, Gordie Howe and Terry Sawchuk with both the Richard and Howe cards valued at over $1,000. The number 3 card of Bernie Geoffrion is considered and uncorrected error (UER) as his last name is misspelled Gioffrion on the front of the card.
The number 105 card of Bob Hassard is valued at more than four times that of a common card on scarcity alone. This is the first of only two cards ever produced with Hassard on the front. He played a total of 126 National Hockey League games between 1949-50 and 1954-55 with the Toronto Maple Leafs and Chicago Black Hawks.
1952-53 Parkhurst NHL Video
1952-53 Parkhurst NHL Checklist
| | |
| --- | --- |
| Number | Player |
| 1 | Maurice "Rocket" Richard |
| 2 | Billy Reay |
| 3 | Bernie "Boom-Boom" Geoffrion |
| 4 | Paul Meger |
| 5 | Dick Gamble |
| 6 | Elmer Lach |
| 7 | Floyd Curry |
| 8 | Ken Mosdell |
| 9 | Tom Johnson |
| 10 | Dickie Moore RC |
| 11 | Jim "Bud" MacPherson |
| 12 | Gerry McNeil |
| 13 | Emile "Butch" Bouchard |
| 14 | Doug Harvey |
| 15 | John McCormack RC |
| 16 | Pete Babando |
| 17 | Al Dewsbury |
| 18 | Ed Kullman |
| 19 | Ed Slowinski |
| 20 | Wally Hergesheimer |
| 21 | Allan Stanley |
| 22 | Chuck Rayner |
| 23 | Steve Kraftcheck |
| 24 | Paul Ronty |
| 25 | Gaye Stewart |
| 26 | Fred Hucul |
| 27 | Bill Mosienko |
| 28 | Jim Morrison RC |
| 29 | Ed Kryzanowski |
| 30 | Cal Gardner |
| 31 | Al Rollins |
| 32 | Enio Sclisizzi RC |
| 33 | Pete Conacher RC |
| 34 | Leo Boivin RC |
| 35 | Jim Peters |
| 36 | George "Hully" Gee |
| 37 | Gus Bodnar |
| 38 | Jim McFadden |
| 39 | Gus Mortson |
| 40 | Fred Glover |
| 41 | Gerry Couture |
| 42 | Howie Meeker |
| 43 | Jim Thomson |
| 44 | Ted Kennedy |
| 45 | Sid Smith |
| 46 | Harry Watson |
| 47 | Fern Flaman |
| 48 | Tod Sloan |
| 49 | Leo Reise |
| 50 | Bob Solinger |
| 51 | George Armstrong RC |
| 52 | Dollard St. Laurent RC |
| 53 | Alex Delvecchio |
| 54 | Gord Hannigan RC |
| 55 | Lee Fogolin |
| 56 | Bill Gadsby |
| 57 | Herb Dickenson RC |
| 58 | Tim Horton RC |
| 59 | Harry Lumley |
| 60 | Metro Prystai |
| 61 | Marcel Pronovost |
| 62 | Benny Woit |
| 63 | Glen Skov |
| 64 | Bob Goldham |
| 65 | Tony Leswick |
| 66 | Marty Pavelich |
| 67 | Leonard "Red" Kelly |
| 68 | Bill Quackenbush |
| 69 | Ed Sandford |
| 70 | Milt Schmidt |
| 71 | Hal Laycoe |
| 72 | Woody Dumart |
| 73 | Jerry Toppazzini RC |
| 74 | Jim Henry |
| 75 | Joe Klukay |
| 76 | Dave Creighton RC |
| 77 | Jack McIntyre RC |
| 78 | Johnny Peirson |
| 79 | George "Red" Sullivan |
| 80 | Real Chevrefils RC |
| 81 | Leo Labine RC |
| 82 | Fleming Mackell |
| 83 | Pentti Lund |
| 84 | Bob Armstrong RC |
| 85 | Warren Godfrey RC |
| 86 | Terry Sawchuk |
| 87 | Ted Lindsay |
| 88 | Gordie Howe |
| 89 | Johnny Wilson RC |
| 90 | Vic Stasiuk |
| 91 | Larry Zeidel RC |
| 92 | Larry Wilson RC |
| 93 | Bert Olmstead |
| 94 | Ron Stewart RC  |
| 95 | Max Bentley |
| 96 | Rudy Migay RC |
| 97 | Jack Stoddard RC |
| 98 | Hy Buller |
| 99 | Don Raleigh |
| 100 | Edgar Laprade |
| 101 | Nick Mickoski |
| 102 | Jack McLeod |
| 103 | Jim Conacher |
| 104 | Reggie Sinclair |
| 105 | Bob Hassard RC |