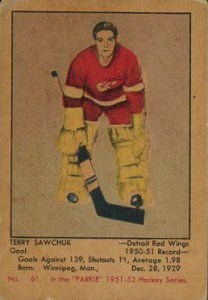 The 1951-52 Parkhurst set consists of 105 hockey cards featuring players from the six teams that made up the National Hockey League at the time. This set marked the first major hockey card set in over a decade and took the hobby out of the dark ages and into the modern era.
Because there hadn't been a major set since the 1940-41 O-Pee-Chee V301-2, pretty much all of the cards in the 1951-52 Parkhurst set were rookie cards. There were some exceptions, including Sid Abel, Max Bentley, Turk Broda and Milt Schmidt.
The most valuable cards, all rookie cards, in the set include Gordie Howe, Maurice Richard and Terry Sawchuk with book values all over $1,000.
These 1951-52 Parkhurst cards were smaller than the standard that would soon after be set. They measured just 1 3/4″ wide and 2 1/2″ in height. All information about the players was given on the front of the card and the backs were blank.
1951-52 Parkhurst NHL Video
1951-52 Parkhurst NHL Checklist