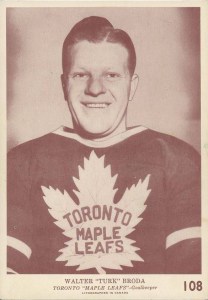 * We're in the process of fixing a mistake we made adding cards to this collection – the pictures, names and card numbers are correct but the titles on each misread 1951-52 Parkhurst*
The 1940-41 O-Pee-Chee V301-2 NHL set consists of 50 hockey cards, numbered 101 to 150. The set is a continuation numerically from the 1939-40 V301-1 set that lists 100 cards. The 1940-41 set marks the end of mainstream hockey cards for more than a decade. The next set to appear is the 1951-52 Parkhurst set. This is also the last set to feature players from the New York Americans. By 1951-52, the Americans were long extinct from the National Hockey League.
These cards are larger than the present day dimensions, although the ratio of height to width is exactly the same. The 1940-41 O-Pee-Chee V301-2 cards measure 5 inches wide by 7 inches in height.
The most valuable rookie card in the set belongs to Milt Schmidt of the Boston Bruins. One of two cards featuring Turk Broda of the Toronto Maple Leafs has a book value equal to that of the Schmidt RC. Other significant rookie cards belong to Elmer Lach, Max Bentley and Ken Reardon.