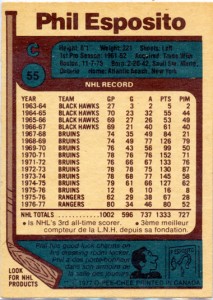 According to O-Pee-Chee, Phil Esposito broke his own record for most goals in a single season with 78 in 1972-73. This total beat the 76 he scored in 1970-71 by two. Wayne Gretzky would shatter Esposito's number and establish an unbreakable record with 92 in 1981-82.
On the back of the 1977-78 O-Pee-Chee #55 Phil Esposito hockey card, it states that Phil scored 78 goals in 1972-73. In fact, Esposito only scored 55 in 1972-73 with the Boston Bruins. Still respectable but not a record breaker.
The card is, of course, considered an uncorrected error (UER). If it were true, coupled with Phil's 75 assists that season, he would have totaled 153 points, beating his own record by a single point.
Just The Facts

On his 1977-78 hockey card, O-Pee-Chee printed that Esposito scored 78 goals in 1972-73.
Esposito scored 55 in 1972-73.
Phil's record of 76 goals in 1970-71 stood as an NHL record until Wayne Gretzky's 92 in 1981-82.
Phil Esposito's rookie card from 1965-66 is valued at $400.
The 1977-78 O-Pee-Chee error card is valued at $3.
The 1977-78 O-Pee-Chee Phil Esposito error card is worth $3.00, according to Beckett Hockey Monthly. This is a far cry from the 1965-66 Topps #116 Phil Esposito rookie card. That gem is valued at $400. The 1977-78 Topps Phil Esposito hockey card contains the same error.
After playing junior hockey with the OHA's St. Catherines Teepees in 1961-62, Esposito broke into the NHL for the 1963-64 season with the Chicago Black Hawks. Phil played 1,282 regular season NHL games between 1963-64 and 1980-81 with the Black Hawks, Boston Bruins and New York Rangers.
He won the Art Ross Trophy five times and the Hart Memorial Trophy on two occasions. Esposito was inducted into the Hockey Hall of Fame in 1984 and his number 7 was retired by the Boston Bruins three years later.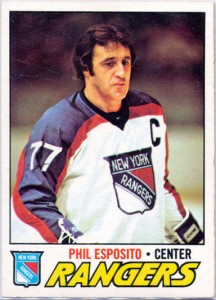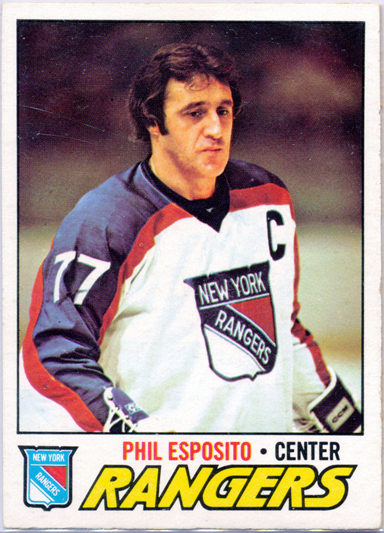 Esposito scored 717 career regular season goals in the NHL. That mark places him fifth all-time, some three plus decades after retiring as a player. His 873 assists place him 22nd and his 1,590 points put Phil tenth all-time.
In 1998-99, the National Hockey League introduced the Rocket Richard Trophy to honour the player each season with the most regular season goals. Perhaps, they should have named it the Phil Esposito Trophy.
Esposito led the NHL in goals in six consecutive seasons from 1969-70 to 1974-75. He finished fourth in 1967-68, second in 1968-69 and eighth in 1978-79. Richard led the NHL in goals on just four occasions.
Phil Esposito Career Stats
| | | | | | | | |
| --- | --- | --- | --- | --- | --- | --- | --- |
| Season | Team | Lge | GP | G | A | Pts | PIM |
| 1961-62 | Sault Ste. Marie Thunderbirds | EPHL | 6 | 0 | 3 | 3 | 2 |
| 1961-62 | St. Catharines Teepees | OHA | 49 | 32 | 39 | 71 | 0 |
| 1962-63 | Syracuse/St. Louis Braves | EPHL | 71 | 36 | 54 | 90 | 51 |
| 1963-64 | St. Louis Braves | CPHL | 43 | 26 | 54 | 80 | 65 |
| 1963-64 | Chicago Blackhawks | NHL | 27 | 3 | 2 | 5 | 2 |
| 1964-65 | Chicago Blackhawks | NHL | 70 | 23 | 32 | 55 | 44 |
| 1965-66 | Chicago Blackhawks | NHL | 69 | 27 | 26 | 53 | 49 |
| 1966-67 | Chicago Blackhawks | NHL | 69 | 21 | 40 | 61 | 40 |
| 1967-68 | Boston Bruins | NHL | 74 | 35 | 49 | 84 | 21 |
| 1968-69 | Boston Bruins | NHL | 74 | 49 | 77 | 126 | 79 |
| 1969-70 | Boston Bruins | NHL | 76 | 43 | 56 | 99 | 50 |
| 1970-71 | Boston Bruins | NHL | 78 | 76 | 76 | 152 | 71 |
| 1971-72 | Boston Bruins | NHL | 76 | 66 | 67 | 133 | 76 |
| 1972-73 | Boston Bruins | NHL | 78 | 55 | 75 | 130 | 87 |
| 1973-74 | Boston Bruins | NHL | 78 | 68 | 77 | 145 | 58 |
| 1974-75 | Boston Bruins | NHL | 79 | 61 | 66 | 127 | 62 |
| 1975-76 | Boston Bruins | NHL | 12 | 6 | 10 | 16 | 8 |
| 1975-76 | New York Rangers | NHL | 62 | 29 | 38 | 67 | 28 |
| 1976-77 | New York Rangers | NHL | 80 | 34 | 46 | 80 | 52 |
| 1977-78 | New York Rangers | NHL | 79 | 38 | 43 | 81 | 53 |
| 1978-79 | New York Rangers | NHL | 80 | 42 | 36 | 78 | 37 |
| 1979-80 | New York Rangers | NHL | 80 | 34 | 44 | 78 | 73 |
| 1980-81 | New York Rangers | NHL | 41 | 7 | 13 | 20 | 20 |
| | NHL Totals | | 1282 | 717 | 873 | 1590 | 910 |