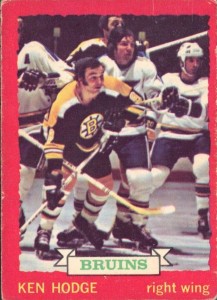 Another member of the Big Bad Boston Bruins in the 1970's that lived in the shadow of Bobby Orr and Phil Esposito. Ken Hodge was just another great player from that Boston era that perhaps didn't get the credit he was due.
Hodge and teammate John Bucyk were the fifth and sixth players in National Hockey League history to top the 100 point plateau. In 1970-71, Bucyk finished with 116 points while Hodge ended up with 105. Of course, two of the four players that accomplished the feat before them were Esposito and Orr (along with Gordie Howe and Bobby Hull).
Ken Hodge – Junior and Minor Pro
Ken Hodge played four years of major junior hockey in Ontario from 1961-62 to 1964-65. The franchise was called the St. Catherines Teepees in 1961-62 while the name was changed to the St. Catherines Blackhawks for the rest of his stay.
In 1963-64, Hodge began to show his offensive power, finishing tenth in the league with 37 goals. He tied for fifth with St. Catherines teammate Doug Jarrett and Mike Walton of the Toronto Marlboros, each with 51 assists. Ken's 88 points placed him eighth in overall scoring.
In his senior year, 1964-65, Hodge exploded with 63 goals in 55 games, by far the league best. His assist total was 60, placing him fifth in the league, one more than Bobby Orr of the Oshawa Generals. His 123 points led the league, four points ahead of Andre Lacroix of the Peterborough Petes.
Ken was awarded the Eddie Powers Trophy as top scorer but Lacroix was given Red Tilson Trophy honours as most valuable player. Hodge was also named the First Team All-Star at right wing, ahead of Danny Grant from Peterborough.
In that 1964-65 season, Hodge also saw his first pro hockey action, appearing in two American Hockey League games with the Buffalo Bisons. He would not play in the minors again until 1977-78, instead jumping straight to the Chicago Blackhawks for the 1965-66 NHL season. Hodge also appeared in a single NHL game with the Blackhawks in 1964-65, while still a junior.
In 1977-78, Hodge was sent down to the AHL by the Rangers to play for the Parker MacDonald coached New Haven Nighthawks. He performed well with 46 points in 52 games and adding seven more in 15 playoff games. The Nighthawks reached the Calder Cup finals before bowing to the Maine Mariners.
After not playing in 1978-79, Hodge tried a comeback in 1979-80 with the Binghamton Dusters in the AHL. He contributed 30 points in 37 games for a Dusters team that finished last in the ten team league, eleven points behind number nine.

Ken Hodge – NHL
Between 1964-65 and 1977-78, Ken Hodge played 880 regular season games in the National Hockey League with the Chicago Blackhawks, Boston Bruins and New York Rangers. Over that time, he scored 328 and assisted on 472 for 800 points.
---
Ken Hodge Collection











---
In the playoffs, Hodge scored 34 and assisted on 47 for 81 points over 97 games. He was an important part of two Stanley Cup championships for the Bruins in 1969-70 and 1971-72.
His time with the Blackhawks was lackluster and a bit underachieving. The May 15, 1967 blockbuster trade changed everything. Hodge went to the Bruins with Phil Esposito and Fred Stanfield. Going to Chicago were Gilles Marotte, Pit Martin and Jack Norris.
Nine times, all with Boston, Ken surpassed the 20 goal plateau. Four times, he topped 30 goals and three times he reached 40 goals. In 1973-74, Hodge scored exactly 50 goals.
His offensive impact really began to be felt in 1968-69 when he finished fourth in the NHL with 45 goals and was fifth in the race for the Art Ross Trophy with 90 points. But, his totals in 1970-71 took Hodge to a new level.
In 1970-71, a year when Phil Esposito was busy shattering his own league records, Ken was right beside him. Hodge was fourth with 43 goals, fourth with 62 assists and fourth with 105 points. He was named a First Team All-Star for the first of two times during his career.
Hodge put in an encore performance in 1973-74. He finished fourth with 50 goals, eighth with 55 assists and third in the race for the Art Ross Trophy with 105 points. He was again named a First Team All-Star. It would never be this good again for Ken.
At the end of the 1975-76 NHL season, on May 28, Ken Hodge was traded to the New York Rangers for Rick Middleton. Rick's career was just about to blossom with the Bruins while Ken's would quickly fizzle out with the Rangers.

Ken Hodge – Rookie Card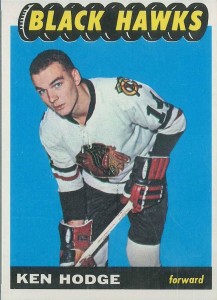 The Ken Hodge rookie card appears as number 65 in the 1965-66 Topps NHL hockey card set. He is shown with the Chicago Blackhawks with just his junior stats on the back, having not played a NHL game prior to that 1965-66 season.
His final card is included in the 1977-78 O-Pee-Chee and Topps sets and shows him with the New York Rangers. Hodge played in 18 games with New York in 1977-78, the last games in his NHL career.
A number of Ken Hodge's hockey cards repeat the fact that he was the only NHL player born in England at the time. He was born in Birmingham, England but moved to Toronto, Ontario at a young age. However, his early cards, like the 1966-67 and 1967-68 Topps versions, gave his place of birth as Toronto.

Ken Hodge Career Stats
| | | | | | | | |
| --- | --- | --- | --- | --- | --- | --- | --- |
| Season | Team | Lge | GP | G | A | Pts | PIM |
| 1961-62 | St. Catharines Teepees | OHA | 31 | 4 | 3 | 7 | 6 |
| 1962-63 | St. Catharines Black Hawks | OHA | 50 | 23 | 23 | 46 | 97 |
| 1963-64 | St. Catharines Black Hawks | OHA | 56 | 37 | 51 | 88 | 110 |
| 1964-65 | St. Catharines Black Hawks | OHA | 55 | 63 | 60 | 123 | 107 |
| 1964-65 | Buffalo Bisons | AHL | 2 | 0 | 2 | 2 | 0 |
| 1964-65 | Chicago Blackhawks | NHL | 1 | 0 | 0 | 0 | 2 |
| 1965-66 | Chicago Blackhawks | NHL | 63 | 6 | 17 | 23 | 47 |
| 1966-67 | Chicago Blackhawks | NHL | 68 | 10 | 25 | 35 | 59 |
| 1967-68 | Boston Bruins | NHL | 74 | 25 | 31 | 56 | 31 |
| 1968-69 | Boston Bruins | NHL | 75 | 45 | 45 | 90 | 75 |
| 1969-70 | Boston Bruins | NHL | 72 | 25 | 29 | 54 | 87 |
| 1970-71 | Boston Bruins | NHL | 78 | 43 | 62 | 105 | 113 |
| 1971-72 | Boston Bruins | NHL | 60 | 16 | 40 | 56 | 81 |
| 1972-73 | Boston Bruins | NHL | 73 | 37 | 44 | 81 | 58 |
| 1973-74 | Boston Bruins | NHL | 76 | 50 | 55 | 105 | 43 |
| 1974-75 | Boston Bruins | NHL | 72 | 23 | 43 | 66 | 90 |
| 1975-76 | Boston Bruins | NHL | 72 | 25 | 36 | 61 | 42 |
| 1976-77 | New York Rangers | NHL | 78 | 21 | 41 | 62 | 43 |
| 1977-78 | New York Rangers | NHL | 18 | 2 | 4 | 6 | 8 |
| 1977-78 | New Haven Nighthawks | AHL | 52 | 17 | 29 | 46 | 13 |
| 1979-80 | Binghamton Dusters | AHL | 37 | 10 | 20 | 30 | 24 |
| | NHL Totals | | 880 | 328 | 472 | 800 | 779 |