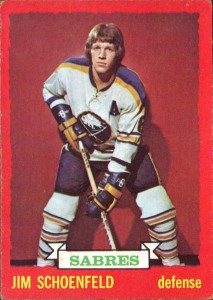 It's my belief that the London Knights have buried much of their heritage before the Hunter Brothers era. A tiny part of that heritage was a rookie defenseman named Jim Schoenfeld back in 1969-70. Schoenfeld just 16 games with the club that year before him and four others, including Rick Kehoe, were sent to the Hamilton Red Wings.
Schoenfeld went on to be a fifth overall pick by the Buffalo Sabres and spent three years as that team's captain. His time as a coach and general manager in the National Hockey League has far exceeded his playing career. As of 2016-17, Jim is still active today as general manager of the Hartford Wolf Pack in the AHL and assistant general manager of the New York Rangers.
Jim Schoenfeld – Junior and Minor Pro
Jim Schoenfeld played three years of major junior hockey between 1969-70 and 1971-72 with the London Knights, Hamilton Red Wings and Niagara Falls Flyers. Over that time, Schoenfeld scored 15 and assisted on 90 for 105 points over 143 regular season games. He also sat a hefty 555 minutes in penalties. Jim appeared in just six playoff games, all with the Flyers in his final season.
His time in London was short with just 16 games played before a trade sent him and four others to the Hamilton Red Wings. In those 16 games, Schoenfeld made his physical presence felt with 81 PIM.
In 1970-71, Jim split his season between Hamilton and Niagara Falls and finished fourth in the league with 205 PIM. In his senior season, Schoenfeld led the league with 215 PIM.
Schoenfeld's time in the minors was short. In 1973-74, he played just two games in the American Hockey League with the Cincinnati Swords. Jim put up two assists and sat just two minor penalties. The Swords were led offensively by Peter McNab and coached by Floyd Smith. McNab would later be his teammate in Buffalo and Smith would later coach the Sabres.

Jim Schoenfeld – NHL
Between 1972-73 and 1984-85, Jim Schoenfeld played in 719 regular season National Hockey League games with the Buffalo Sabres, Detroit Red Wings and Boston Bruins. Over that time, the stay at home defenseman scored 51 and assisted on 204 for 255 points while sitting 1,132 minutes in the penalty box.
---
Jim Schoenfeld Collection



---
In 75 Stanley Cup playoff games, Schoenfeld added three goals and 13 assists for 16 points. He helped the Sabres to the finals in 1974-75 before losing to the rough and tumble Philadelphia Flyers.
At the 1972 NHL Amateur Draft, Jim was the fifth overall pick by the Sabres. Going before him were Billy Harris (Toronto Marlboros / New York Islanders), Jacques Richard (Quebec Remparts / Atlanta Flames), Don Lever (Niagara Falls Flyers / Vancouver Canucks) and Steve Shutt (Toronto Marlboros / Montreal Canadiens). He was selected ahead of Michel Larocque and Hockey Hall of Fame member Bill Barber.
Most of Schoenfeld's career was spent with the Sabres. He played with the club from 1972-73 to 1981-82. After short time with the Detroit Red Wings and Boston Bruins, Jim returned to Buffalo to finish off his career in 1984-85.
Not one for offense, Schoenfeld's best season came in 1979-80 when he scored nine and assisted on 27 for 36 points. He led the NHL that year with a +60 and made his only All-Star Team appearance with a position as a Second Team All-Star.
Twice, he ended up among the top ten bad boys. In his rookie season, 1972-73, Schoenfeld finished eighth with 178 PIM, just one minute behind Bryan Watson of the Pittsburgh Penguins. In 1974-75, he tied for eighth with 184 PIM, equaling teammate Jerry Korab.
Jim was captain for the Buffalo Sabres from 1974-75 to 1976-77. He replaced Gerry Meehan and was replaced by Danny Gare. Schoenfeld and Gare were dealt from Buffalo to Detroit together on December 2, 1981. Derek Smith joined the two with Mike Foligno, Dale McCourt and Brent Peterson going in the other direction.

Jim Schoenfeld – Staff
Jim Schoenfeld's coaching career began in 1984-85 as head coach of the Rochester Americans in the AHL. Midseason, he was replaced by John Van Boxmeer with Jim making the return to the ice with Buffalo. He finished that season off playing 34 regular season and six playoff games with the Sabres.
In 1985-86, Jim started the season as head coach of the Sabres but was replaced after 43 games by Scotty Bowman. After a year off, he took over the head coaching job with the New Jersey Devils, replacing Doug Carpenter with 30 games left in the season. Schoenfeld led the Devils to the semi-finals before losing in seven to the Boston Bruins.
He spent the full 1988-89 season behind the New Jersey bench but was replaced 14 games into 1989-90 by John Cunniff. Schoenfeld's next stop was Washington, replacing Terry Murray as head coach 47 games into the 1993-94 season. He remained with the Capitals until the end of the 1996-97 NHL season.
For two years, 1997-98 and 1998-99, Jim was bench boss of the Phoenix Coyotes. That would be the end of his head coaching days in the National Hockey League.
Since 2003-04, Schoenfeld has been general manager for the New York Rangers American Hockey League affiliate. They started out as, and are now known as, the Hartford Wolf Pack. Along the way, there was a stint when the team was known as the Connecticut Whale.
Jim served as head coach with the Wolf Pack in 2005-06 and 2006-07. He has also taken on the role of assistant general manager with the Rangers since 2007-08.

Jim Schoenfeld – Rookie Card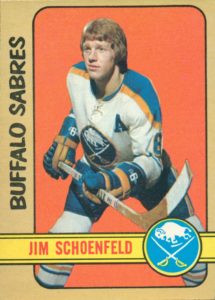 The Jim Schoenfeld rookie card appears as number 220 in the 1972-73 O-Pee-Chee NHL hockey card set. Topps did not include him until the following season. He is shown as a member of the Buffalo Sabres with no stats on the back of that OPC rookie card.
Schoenfeld's final card is included in the 1983-84 O-Pee-Chee set. He is shown as a member of the Boston Bruins. He played in 1984-85 with the Sabres but no card was issued. Also, no card was issued for Jim in the 1981-82 season. In 1982-83, he was shown with the Detroit Red Wings.

Jim Schoenfeld Career Stats
| | | | | | | | |
| --- | --- | --- | --- | --- | --- | --- | --- |
| Season | Team | Lge | GP | G | A | Pts | PIM |
| 1969-70 | London Knights | OHA | 16 | 1 | 4 | 5 | 81 |
| 1969-70 | Hamilton Red Wings | OHA | 32 | 2 | 12 | 14 | 54 |
| 1970-71 | Hamilton Red Wings | OHA | 25 | 3 | 19 | 22 | 120 |
| 1970-71 | Niagara Falls Flyers | OHA | 30 | 3 | 9 | 12 | 85 |
| 1971-72 | Niagara Falls Flyers | OHA | 40 | 6 | 46 | 52 | 215 |
| 1972-73 | Buffalo Sabres | NHL | 66 | 4 | 15 | 19 | 178 |
| 1973-74 | Cincinnati Swords | AHL | 2 | 0 | 2 | 2 | 4 |
| 1973-74 | Buffalo Sabres | NHL | 28 | 1 | 8 | 9 | 56 |
| 1974-75 | Buffalo Sabres | NHL | 68 | 1 | 19 | 20 | 184 |
| 1975-76 | Buffalo Sabres | NHL | 56 | 2 | 22 | 24 | 114 |
| 1976-77 | Buffalo Sabres | NHL | 65 | 7 | 25 | 32 | 97 |
| 1977-78 | Buffalo Sabres | NHL | 60 | 2 | 20 | 22 | 89 |
| 1978-79 | Buffalo Sabres | NHL | 46 | 8 | 17 | 25 | 67 |
| 1979-80 | Buffalo Sabres | NHL | 77 | 9 | 27 | 36 | 72 |
| 1980-81 | Buffalo Sabres | NHL | 71 | 8 | 25 | 33 | 110 |
| 1981-82 | Buffalo Sabres | NHL | 13 | 3 | 2 | 5 | 30 |
| 1981-82 | Detroit Red Wings | NHL | 39 | 5 | 9 | 14 | 69 |
| 1982-83 | Detroit Red Wings | NHL | 57 | 1 | 10 | 11 | 18 |
| 1983-84 | Boston Bruins | NHL | 39 | 0 | 2 | 2 | 20 |
| 1984-85 | Buffalo Sabres | NHL | 34 | 0 | 3 | 3 | 28 |
| | NHL Totals | | 719 | 51 | 204 | 255 | 1132 |