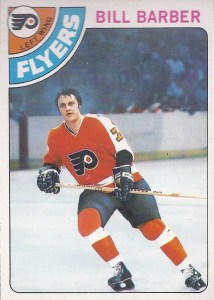 He never won an individual award as a player in the National Hockey League. But, for Bill Barber, that is not the measure of greatness. When all was said and done, he helped the Philadelphia Flyers to two Stanley Cup championships. He helped Canada to a Canada Cup championship.
He was inducted into the Hockey Hall of Fame. He was inducted into the Flyers Hall of Fame. His number 7 was retired by Philadelphia. His number 7 is just one of five to be honoured by his junior team, the Kitchener Rangers.
Long after his NHL playing days were done, Barber coached the Philadelphia Phantoms to a Calder Cup championship. Individual awards just don't tell the tale.
Bill Barber – Junior and Minor Pro
Barber played three seasons in what is now the Ontario Hockey League from 1969-70 to 1971-72 with the Kitchener Rangers. Playing under head coach Ron Murphy, Bill put in two outstanding seasons in his final two campaigns.
---
Bill Barber Collection



---
In 1970-71, he finished sixth in the league with 46 goals and tenth overall in the race for the Eddie Powers Trophy with 105 points. The following year, he tied for tenth with 44 goals, equaling Dennis Ververgaert of the London Knights. His 63 assists placed him sixth and his 107 points also placed him sixth.
The only time during his career when Barber found himself in the minors was during his rookie pro season, 1972-73. He played eleven regular season and two Calder Cup playoff games with the Richmond Robins of the American Hockey League. He would also appear in regular season and playoff games in the NHL with the Flyers that year.
The Kitchener Rangers do not retire numbers but do honour them. Even then, the team has pretty high standards and have honoured just five. I believe the criteria is that a player that has graduated from the team must be inducted into the Hockey Hall of Fame to be considered. The other four are Scott Stevens, Al MacInnis, Paul Coffey and Larry Robinson.
For complete info on these honoured numbers, take a look here: Kitchener Rangers honoured numbers.
Bill Barber – NHL
At the 1972 NHL Amateur Draft, Barber was taken seventh overall by Philadelphia. He played his entire NHL career, from 1972-73 to 1983-84, with the Flyers. Over that time, he scored 420 goals and assisted on 463 for 883 points over 903 regular season games. In the Stanley Cup playoffs, he added 108 points in 129 games.
In his rookie season, Barber scored 30 and assisted on 34 over 69 games. He added five assists in eleven playoff games. Yet, he came in second in the voting for the Calder Trophy to Steve Vickers of the New York Rangers. Both had very similar first year numbers.
Bill topped out offensively in 1975-76. His 50 goals tied him for fifth in the National Hockey League with Danny Gare of the Buffalo Sabres. He placed ninth with 62 assists and finished fourth in the hunt for the Art Ross Trophy with 112 points. Barber was named a First Team All-Star.
That same year, he was a member of Team Canada for the 1976 Canada Cup. He would also appear for Canada on the international stage in 1982. Barber scored eight goals in ten games for Canada at the 1982 IIHF World Championships.
Canada captured bronze, behind the Soviet Union and Czechoslovakia. Bill was a tournament all-star at left wing, lined up with Wayne Gretzky and Sergei Makarov. He finished sixth with nine points. Gretzky led with 14.
Over his career, Barber had 40+ goals in five seasons and his lowest scoring output was 20 goals in 1976-77. Along with his First Team All-Star selection in 1975-76, Bill was named to the Second Team on two occasions.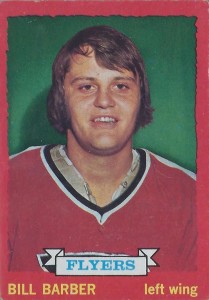 In 1978-79, Barber was named to the Second Team, behind Clark Gillies of the New York Islanders. In 1980-81, he came runner-up to Charlie Simmer of the Los Angeles Kings.
If the outcome had been different by about two games, Bill might have been named to Conn Smythe Trophy winner in 1979-80. Barber led the Flyers with 12 goals over 19 playoff games and totaled 21 points.
Philadelphia reached the finals before losing in six games to the New York Islanders. The Flyers were outscored on the series by just a single goals, 26-25. The first and sixth game needed overtime to decide a winner. Pat Quinn was head coach of that Flyers team while Bobby Clarke was player/assistant coach.
The Philadelphia Flyers Hall of Fame was established in 1988. Bill Barber was inducted in 1989. He was the third member to join, following Bobby Clarke and Bernie Parent. Barber then was inducted into the Hockey Hall of Fame in 1990. His number 7 was retired by Philadelphia that same year.
Bill Barber – Staff
Bill never left the game of hockey. He been involved in some sort of staff capacity in pro hockey since 1984-85. His start was as head coach of the Hershey Bears of the AHL.
Barber has spent most of his time with the Flyers organization, with exception of a period between 2002-03 and 2007-08 when was Director of Player Personnel with the Tampa Bay Lightning. He has been a consultant with Philadelphia since 2008-09.
Barber coached the 1997-98 Philadelphia Phantoms to a Calder Cup championship in the American Hockey League. In 2000-01, he finally got an NHL personal accolade, winning the Jack Adams Award as coach of the year.
Bill Barber – Rookie Card
The Bill Barber rookie card appears as number 81 in the 1973-74 O-Pee-Chee hockey card set. Of course, he was shown as a member of the Philadelphia Flyers. His last card was included in the 1984-85 O-Pee-Chee set, despite playing his last pro hockey game in 1983-84.
Bill Barber Career Stats
| | | | | | | | |
| --- | --- | --- | --- | --- | --- | --- | --- |
| Season | Team | Lge | GP | G | A | Pts | PIM |
| 1969-70 | Kitchener Rangers | OHA | 54 | 37 | 49 | 86 | 42 |
| 1970-71 | Kitchener Rangers | OHA | 61 | 46 | 59 | 105 | 129 |
| 1971-72 | Kitchener Rangers | OHA | 62 | 44 | 63 | 107 | 89 |
| 1972-73 | Richmond Robins | AHL | 11 | 9 | 5 | 14 | 4 |
| 1972-73 | Philadelphia Flyers | NHL | 69 | 30 | 34 | 64 | 46 |
| 1973-74 | Philadelphia Flyers | NHL | 75 | 34 | 35 | 69 | 54 |
| 1974-75 | Philadelphia Flyers | NHL | 79 | 34 | 37 | 71 | 66 |
| 1975-76 | Philadelphia Flyers | NHL | 80 | 50 | 62 | 112 | 104 |
| 1976-77 | Philadelphia Flyers | NHL | 73 | 20 | 35 | 55 | 62 |
| 1977-78 | Philadelphia Flyers | NHL | 80 | 41 | 31 | 72 | 34 |
| 1978-79 | Philadelphia Flyers | NHL | 79 | 34 | 46 | 80 | 22 |
| 1979-80 | Philadelphia Flyers | NHL | 79 | 40 | 32 | 72 | 17 |
| 1980-81 | Philadelphia Flyers | NHL | 80 | 43 | 42 | 85 | 69 |
| 1981-82 | Philadelphia Flyers | NHL | 80 | 45 | 44 | 89 | 85 |
| 1982-83 | Philadelphia Flyers | NHL | 66 | 27 | 33 | 60 | 28 |
| 1983-84 | Philadelphia Flyers | NHL | 63 | 22 | 32 | 54 | 36 |
| | NHL Totals | | 903 | 420 | 463 | 883 | 623 |