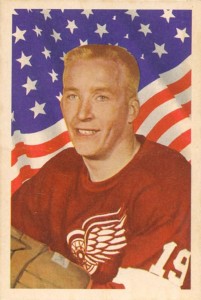 Recently, we noted that Cesare Maniago was the unlikely top valued rookie card in the 1963-64 Parkhurst set. The second highest valued rookie card, and third highest valued card, in the 1963-64 Parkhurst set belongs to a much more obscure player.
Alex Faulkner
Alex Faulkner played just 101 regular season games in the National Hockey League between 1961-62 and 1963-64. He played just one game with the Toronto Maple Leafs in 1961-62 before playing the full 70 game schedule with the Detroit Red Wings the following season. In 1963-64, he played just 30 games before injuries got the best of him. During the 1963 Stanley Cup playoffs, Faulkner was an integral part of Detroit`s upset of the Chicago Black Hawks in the semi-finals. Detroit fell to Toronto in the finals, 4-1, with Alex scoring two goals in the Red Wings only win.
There was only one mainstream hockey card ever produced with Alex on the front. The Alex Faulkner rookie card appears as number 42 in the 1963-64 Parkhurst set and is valued at a whopping $125, more than a dollar per game over his career. As mentioned, this is the second most highly valued rookie card in the set, behind Cesare Maniago of the Montreal Canadiens. Gordie Howe leads the way as the most valuable card in the set. 1963-64 was the final year of production for Parkhurst. The set consists of 99 cards and a full collection is valued at $2,500.
Alex Faulkner played professional hockey from 1960-61 to 1970-71. Other than the NHL, he also played in the AHL, CPHL and WHL. In 1961-62, with the Rochester Americans of the AHL, Faulkner led the team with 73 points in 65 games. He placed eighth in the AHL that season with 54 assists.
In 1966-67, Faulkner found himself playing for the Memphis Wings of the CPHL. He led the team with 88 points in 70 games. He was two points behind Art Stratton of the St. Louis Braves for the league lead. He did, however, lead the CPHL in assists with 60.
Faulkner`s final four years in pro hockey were spent in the WHL with the San Diego Gulls.
Alex is noted as the first Newfoundland born player to play in the National Hockey League. He is a member of the Newfoundland Hall of Fame.
Alex Faulkner Career Stats
| | | | | | | | |
| --- | --- | --- | --- | --- | --- | --- | --- |
| Season | Team | Lge | GP | G | A | Pts | PIM |
| 1960-61 | Rochester Americans | AHL | 41 | 5 | 13 | 18 | 6 |
| 1961-62 | Rochester Americans | AHL | 65 | 19 | 54 | 73 | 26 |
| 1961-62 | Toronto Maple Leafs | NHL | 1 | 0 | 0 | 0 | 0 |
| 1962-63 | Detroit Red Wings | NHL | 70 | 10 | 10 | 20 | 6 |
| 1963-64 | Pittsburgh Hornets | AHL | 8 | 1 | 4 | 5 | 2 |
| 1963-64 | Detroit Red Wings | NHL | 30 | 5 | 7 | 12 | 9 |
| 1963-64 | Indianapolis Capitols | CPHL | 11 | 4 | 8 | 12 | 6 |
| 1966-67 | Memphis Wings | CPHL | 70 | 28 | 60 | 88 | 32 |
| 1967-68 | San Diego Gulls | WHL | 71 | 26 | 41 | 67 | 32 |
| 1968-69 | San Diego Gulls | WHL | 73 | 17 | 51 | 68 | 16 |
| 1969-70 | San Diego Gulls | WHL | 60 | 17 | 48 | 65 | 14 |
| 1970-71 | San Diego Gulls | WHL | 4 | 1 | 1 | 2 | 0 |
| | NHL Totals | | 101 | 15 | 17 | 32 | 15 |