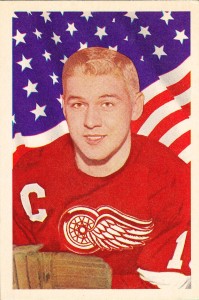 Alex Delvecchio is not a four time winner of the Lady Byng Trophy as the back of his 1973-74 O-Pee-Chee hockey card erroneously states. However, he did win the gentlemanly award three times.
Delvecchio also still ranks 16th on the NHL's all-time iron man list with 548 consecutive games played. But, Alex should really be dubbed the true iron man in National Hockey League history. He missed just two games between 1957-58 and 1967-68. Unfortunately, those two games came in 1964-65, breaking up what would have been a pretty great streak.
If you look at it this way, it makes even more sense. If you exclude 1950-51 when he played in a single game and 1973-74 when he appeared in eleven (his first and last campaigns in the NHL), you have a guy that played in 1,538 out of a potential 1,580 games during his long, illustrious career – a rate of 97.3%.
Alex Delvecchio – Junior and Minor Pro
After three years in the TBJHL with his hometown Ft. Williams Rangers between 1947-48 and 1949-50, Alex Delvecchio was brought down south to play in the OHA with the Oshawa Generals, teamed with the likes of Harry Sinden and Lou Jankowski.
In 1950-51, Alex scored 49 and assisted on 72 for 121 points with the Generals over 54 regular season games. He led the team in assists and fell just behind Jankowski's 124 points in the running for the Eddie Powers Trophy. Delvecchio was named an All-Star Centre, an honoured shared with Ken Laufman of the Guelph Biltmore Mad Hatters.
Those Generals, despite the fire power, finished fifth in the ten team league and lost in the opening round of the playoffs to the Windsor Spitfires. Oshawa was coached by Larry Aurie. Aurie played 489 regular season and 24 playoff games in the NHL with Detroit between 1927-28 and 1938-39. During his time in Detroit, the team changed names from the Cougars to the Falcons to the Red Wings.
Delvecchio spent very little time in the minors over his hockey career. In fact, just six games. In 1951-52, Alex put up nine points in six games in the American Hockey League with the Indianapolis Capitals before getting the permanent call to Detroit.

Alex Delvecchio – NHL
Between 1950-51 and 1973-74, Alex Delvecchio played 1,550 regular season games in the National Hockey League, all with the Detroit Red Wings. That remains the eleventh most all-time in the NHL. Over that time, Alex scored 456 and assisted on 825 for 1,281 points but just 383 penalty minutes. His point total still ranks him 27th all-time.
---
Alex Delvecchio Collection























---
Delvecchio played 121 playoff games, contributing 104 points. In three of his first four full seasons in the NHL, the Red Wings won the Stanley Cup championship. These would be the only wins of his career but he would play in the finals five more times.
In each of those three Stanley Cup wins for Detroit, 1951-52, 1953-54 and 1954-55, their opponent in the finals were the Montreal Canadiens. Montreal springboarded off those losses to win five consecutive championships of their own, starting in 1955-56.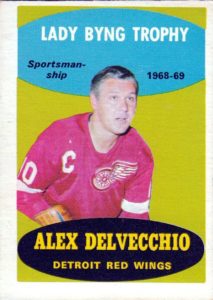 In the year in between, 1952-53, Delvecchio was named Second Team All-Star at centre, behind Fleming Mackell of the Boston Bruins. Surprisingly, it was the first of only two All-Star selections for Alex. In 1958-59, he would once again be named to the Second Team, this time at left wing and this time behind Dickie Moore of the Montreal Canadiens.
Of his many seasons in the NHL, Alex had perfect attendance in 13. He missed two games between 1957-58 and 1967-68, both in 1964-65. In 1956-57, Delvecchio appeared in just 48 games due to a broken leg.
Delvecchio was team captain for the Red Wings from 1962-63 until his retirement eleven games into the 1973-74 season. He replaced Gordie Howe and was replaced by a rotating committee in 1973-74 that included Nick Libett, Red Berenson, Gary Bergman, Ted Harris, Mickey Redmond and Larry Johnston.
In 13 of his NHL seasons, Alex scored 20 or more goals. He topped out in 1965-66 with 31 goals. That total placed him tied for third in the league with teammate Norm Ullman.
Known for his three Lady Byng Trophy nods, his first came in 1958-59 when he took just three minor penalties while playing the full 70 game schedule. In 1965-66, Delvecchio won his second Lady Byng, sitting a rambunctious 16 minutes over 70 games. His final win came in 1968-69 when he sat four minor penalties over 72 games.
Often, Alex was among the top ten when it came to offensive numbers. In 1955-56, he tied for ninth with 51 points, equaling Dave Creighton and Bill Gadsby, both from the New York Rangers. His 25 goals that season placed him seventh in the NHL. That year, the Red Wings fell to the Montreal Canadiens in the Stanley Cup finals.
Two years later, in 1957-58, he placed sixth with 38 assists and tied for eighth with Jean Beliveau of the Habs, both with 59 points. After a few slow seasons, Delvecchio and the Red Wings returned to the spotlight in 1960-61. He finished ninth with 27 goals and tenth with 62 points. Detroit reached the finals but fell to the Chicago Blackhawks in six games.
One of his best pre-expansion seasons came in 1961-62 but the Red Wings failed to qualify for the post season. Delvecchio was tied for eighth in goal scoring with 26, equal to Detroit's Norm Ullman, Earl Ingarfield of the Rangers and Dave Keon of the Maple Leafs.
The following year, it was a return to the Stanley finals before losing to the Toronto Maple Leafs. Detroit would again lose to Toronto in the finals in 1963-64. The Maple Leafs finished up a stretch of three consecutive championship seasons.
In 1964-65, Alex finished tied for eighth with 25 goals, right beside Ralph Backstrom of the Canadiens and Rod Gilbert of the Rangers. His 42 assists were good for fourth in the league and his 67 points put him fifth in the race for the Art Ross Trophy. He would never come closer to winning the Art Ross again.
The last visit to the Stanley Cup finals for Delvecchio came in 1965-66. It was back to their old nemesis from the 1950's, the Montreal Canadiens. The Habs won the series in six games and the Detroit franchise as a whole would start a decades long slide. Alex contributed, finishing seventh with 69 points.
In the first year of expansion, Delvecchio nearly led the NHL in assists. He tied for second with Rod Gilbert of the Rangers, both with 48. The two were just one behind the leader, Phil Esposito of the Bruins. Alex's 70 points put him in the eighth spot.
1968-69 was a career year offensively for Delvecchio with 58 assists and 83 points, good for fourth and seventh in the league, respectively. The following year, he tied Stan Mikita of the Blackhawks for seventh with 47 assists before his numbers would start to drop off.
In 1977, Alex was inducted into the Hockey Hall of Fame. The only other player to enter that season was Tim Horton, honoured posthumously. Delvecchio's number 10 was retired by the Red Wings in 1991.

Alex Delvecchio – Coaching
When he retired eleven games into the 1973-74 NHL season, Alex Delvecchio immediately took over the role as head coach of the Detroit Red Wings. He replaced Ted Garvin. For Garvin, it would be the only eleven games he would coach in the National Hockey League.
Alex coached Detroit off and on between 1973-74 and 1976-77. In each season, the Red Wings failed to qualify for the post season. He was replaced by Doug Barkley.

Alex Delvecchio – Rookie Card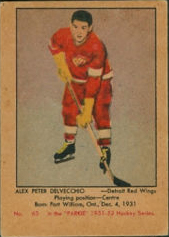 The Alex Delvecchio rookie card appears as number 63 in the 1951-52 Parkhurst NHL hockey card set. It was actually his rookie season, after playing just a single game with Detroit in 1950-51. Many of the players with rookie cards in that set were actually mid career.
His nickname 'Fats' is often referred to on the back of his hockey cards. In 1960-61, Parkhurst interestingly spelled in 'Phats'. Topps gave him the name 'Swivel Neck' on the back of his 1958-59 card because he moved his head side to side when carrying the puck.
Some of his early cards refer to his off-season job as a car salesman, reminding us that NHL players didn't always make millions and actually had to work in the summer to make ends meet. His 1959-60 Topps card calls him a 'baby-faced cigar smoker', another reminder that players have become drastically more health conscious over the past half century.
Delvecchio's 1970-71 O-Pee-Chee hockey card reminds that Alex had planned to retire but was talked out of it by the Red Wings. That card also states that, at the time, he was second all-time in assists, behind just Gordie Howe and third all-time in goal scoring, behind just Jean Beliveau and Howe.
And then, the undocumented error card. On the back of the Alex Delvecchio 1973-74 O-Pee-Chee and Topps cards, it states that he is a four time winner of the Lady Byng Trophy. In fact, he won it just three times over his career. The error was made in both English and French on the O-Pee-Chee card.

Alex Delvecchio Career Stats
| | | | | | | | |
| --- | --- | --- | --- | --- | --- | --- | --- |
| Season | Team | Lge | GP | G | A | Pts | PIM |
| 1950-51 | Oshawa Generals | OHA | 54 | 49 | 72 | 121 | 36 |
| 1950-51 | Detroit Red Wings | NHL | 1 | 0 | 0 | 0 | 0 |
| 1951-52 | Indianapolis Capitals | AHL | 6 | 3 | 6 | 9 | 4 |
| 1951-52 | Detroit Red Wings | NHL | 65 | 15 | 22 | 37 | 22 |
| 1952-53 | Detroit Red Wings | NHL | 70 | 16 | 43 | 59 | 28 |
| 1953-54 | Detroit Red Wings | NHL | 69 | 11 | 18 | 29 | 34 |
| 1954-55 | Detroit Red Wings | NHL | 70 | 17 | 31 | 48 | 37 |
| 1955-56 | Detroit Red Wings | NHL | 70 | 25 | 26 | 51 | 24 |
| 1956-57 | Detroit Red Wings | NHL | 48 | 16 | 25 | 41 | 8 |
| 1957-58 | Detroit Red Wings | NHL | 70 | 21 | 38 | 59 | 22 |
| 1958-59 | Detroit Red Wings | NHL | 70 | 19 | 35 | 54 | 6 |
| 1959-60 | Detroit Red Wings | NHL | 70 | 19 | 28 | 47 | 8 |
| 1960-61 | Detroit Red Wings | NHL | 70 | 27 | 35 | 62 | 26 |
| 1961-62 | Detroit Red Wings | NHL | 70 | 26 | 43 | 69 | 18 |
| 1962-63 | Detroit Red Wings | NHL | 70 | 20 | 44 | 64 | 8 |
| 1963-64 | Detroit Red Wings | NHL | 70 | 23 | 30 | 53 | 11 |
| 1964-65 | Detroit Red Wings | NHL | 68 | 25 | 42 | 67 | 16 |
| 1965-66 | Detroit Red Wings | NHL | 70 | 31 | 38 | 69 | 16 |
| 1966-67 | Detroit Red Wings | NHL | 70 | 17 | 38 | 55 | 10 |
| 1967-68 | Detroit Red Wings | NHL | 74 | 22 | 48 | 70 | 14 |
| 1968-69 | Detroit Red Wings | NHL | 72 | 25 | 58 | 83 | 8 |
| 1969-70 | Detroit Red Wings | NHL | 73 | 21 | 47 | 68 | 24 |
| 1970-71 | Detroit Red Wings | NHL | 77 | 21 | 34 | 55 | 6 |
| 1971-72 | Detroit Red Wings | NHL | 75 | 20 | 45 | 65 | 22 |
| 1972-73 | Detroit Red Wings | NHL | 77 | 18 | 53 | 71 | 13 |
| 1973-74 | Detroit Red Wings | NHL | 11 | 1 | 4 | 5 | 2 |
| | NHL Totals | | 1550 | 456 | 825 | 1281 | 383 |