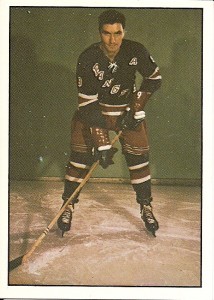 Honestly, I'd never heard of TCMA until just recently. I bought a team set of New York Rangers 1977-78 O-Pee-Chee cards from someone on eBay (just to get the Gilles Gratton card) and as protectors on the top and bottom of the lot, the vendor used identical Andy Bathgate 1981-82 TCMA cards.
It turns out TCMA mostly produced baseball cards from 1972 to 1987. The cards were most always classic or minor league cards with exception of a 630 card set of MLB players they brought out in 1976. Topps quickly put an end to that.
The 1981-82 set featuring Andy Bathgate was the only hockey series TCMA did. It consisted of 13 cards with 'classic' players on the front and a blurb about them on the back. The blurb was actually quite informative and better than what was found on the back of O-Pee-Chee / Topps and Parkhurst cards. The fronts were plain with just a picture of the player.
The 13 cards are as follows:
Gump Worsley
Johnny Bucyk
Henri Richard
Bobby Orr
Frank Mahovlich
Jean Beliveau
Stan Mikita
The TCMA cards are somewhat readily available on eBay, although I haven't seen any takers on auctions yet but I haven't been monitoring for
long. On-line hockey card stores have these cards listed from $1.50 all the way up to $25. Of course, the card fetching $25 is that of Bobby Orr.
TCMA was founded by Mike Aronstein and Tom Collier. According to Aronstein, TCMA stands for 'The Card Memorabilia Associates'. However, TCMA is also conveniently the initials of their names put together. They produced a magazine called Collector's Quarterly which advertised how to order the cards via mail order.